Book Series ::
Widdershins Adventures
Widdershins Adventures — #1
Thief's Covenant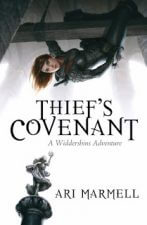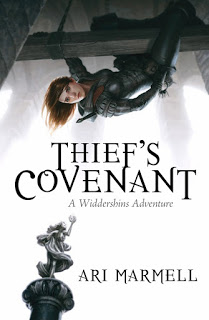 Well it took me far longer than it should have, but I have now finished THIEF'S COVENANT by Ari Marmell. THIEF'S COVENANT (Amazon) is a short (and satisfyingly) breezy read, but finishing up final projects for school has really cut into my reading time. I am pleased to say that I have been having relatively good luck with my reading endeavors lately, and the debut of Widdershins does not disappoint. In a YA market saturated with dystopian settings it's nice to read one set in a fantasy setting.
Meet Adrienne Satti, also known as Widdershins. Street urchin, turned aristocrat, turned thief, Widdershins has led a rough life. Orphaned at a young age, Widdershins has known both poverty and high class. Having returned to the shady alleys from whence she came, Widdershins has established herself as a daring thief but will her street smarts be enough to save her from the dark conspiracy brewing in the depths of Davillon?
Read the rest of this review »
Widdershins Adventures — #2
Widdershins Adventures — #3
Widdershins Adventures — #4