Book Series ::
The Lotus Kingdoms
The Lotus Kingdoms — #1
The Stone in the Skull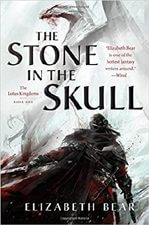 If you read Elizabeth Bear's The Eternal Sky series (RANGE OF GHOSTS starts the trilogy), then you'll love her new The Lotus Kingdoms series (which takes place in the same universe) starting with THE STONE IN THE SKULL. However, even if you haven't read her before, if you like clever and beautifully written novels, then you should be reading more Elizabeth Bear.
From the dustjacket: "The Gage is a brass automaton created by a wizard of Messaline around the core of a human being. His wizard is long dead, and he works as a mercenary. He is carrying a message from a the most powerful sorcerer of Messaline to the Rajni of the Lotus Kingdom. With him is The Dead Man, a bitter survivor of the body guard of the deposed Uthman Caliphate, protecting the message and the Gage. They are friends, of a peculiar sort.
"They are walking into a dynastic war between the rulers of the shattered bits of a once great Empire."
Read the rest of this review »
The Lotus Kingdoms — #2
The Red-Stained Wings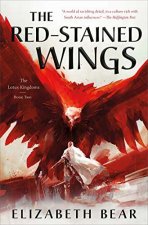 Once upon a time, the Alchemical Emperor created an empire among the ruins of former kingdoms. With his own magic he created a palace like no other. Now his posterity fight over the fractured lands inherited by his children. Two ranji queens rule the sister Sarathi palaces, but their two male cousins (each cursed with the inability to procreate their own heirs), attempt to take power for themselves via subterfuge or outright war.
Read the rest of this review »