Book Series ::
Lady Astronaut
Lady Astronaut — #1
The Calculating Stars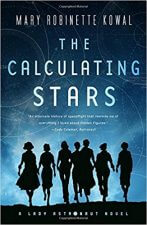 Did you read Mary Robinette Kowal's 2014 Hugo-winning novelette "The Lady Astronaut of Mars"? If not, you can read it here on the Tor.com website, or for time's sake my reaction to it at the bottom of this EBR Review post. In short, it was the obvious standout winner. The main character, Elma, is a 60-something former pilot/astronaut who must make the ultimate sacrifice. But after reading that, one wonders, how did history change to make it possible for 1950s Earth to colonize Mars?
Wonder no more!
Read the rest of this review »
Lady Astronaut — #2
The Fated Sky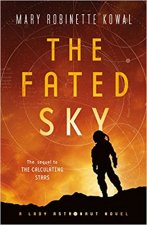 In THE CALCULATING STARS you got to know Elma York, the brilliant mathematician who becomes one of the first lady astronauts on an Earth that must take to the stars to survive.
Now it looks like she'll be one of the first women to Mars.Read the rest of this review »