Review: The Fated Sky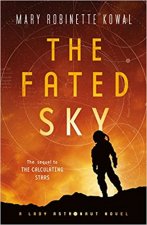 Amazon
In THE CALCULATING STARS you got to know Elma York, the brilliant mathematician who becomes one of the first lady astronauts on an Earth that must take to the stars to survive.
Now it looks like she'll be one of the first women to Mars.
Elma is a woman living in a world where women and minorities must fight to be included in the space program. Most of the computers are women, so it makes sense to include them in the flights to the moon and beyond (since ships won't always have communication with Mission Control, they need computers on-ship), but as we learned in THE CALCULATING STARS that wasn't the obvious solution to those in charge of the space program. Elma, however, makes a name for herself and her influence becomes a factor in including women.
Now her name-recognition gets her a coveted spot in the small group of astronauts (and astronetts) destined for the first trip to Mars–there will be two ships for redundancy and two crews. Unfortunately, beloved husband Nathaniel won't be going so they'll be separated for three years. How will Elma cope with the stress of interplanetary space travel? Especially since she'll be under the command of macho Stetson Parker, the one guy she doesn't get along with.
As with THE CALCULATING STARS, THE FATED SKY is less a hard SciFi book (not that it doesn't have its share of jargon) and more a human-interest story and thereby addresses the emotions of dealing with close quarters, sometimes with people you don't really like, the resulting loneliness, but also overcoming differences. This isn't an action-oriented novel like a lot of SciFi books can be. If you liked, say, some of Lois McMaster Bujold's softer SciFi in her Vorkosigan series, you'll enjoy the Lady Astronaut series.
However, just because it isn't action oriented doesn't mean the series is boring. Kowal's prose is clean and forward moving, and the tension among the crew and as well as the tension of moving through space creates interest enough to keep readers engaged. What kinds of issues would arise from long-term space travel? Lots, from food ingredients to cooking, body waste problems, to lack of gravity, scheduling the crew. Things that on the surface would seem boring, but really pulls the reader into the nitty-gritty of life on a ship, but not so much that I lost interest.
Mary Robinette Kowal concludes her excellent Lady Astronaut series with THE FATED SKY and Elma's travels to the planet Mars.
The biggest tensions were dealing with differing personalities in close quarters, how home planet politics still affects them, as well as the dangers inherent in living in a tin can hurtling through lifeless pace. Not only does Elma have to deal with Parker, but also a black crewmember who resents Elma's replacement of another minority originally slated for the spot, and Elma's well-meaning but bumbling attempts to smooth over race relations–including with the openly hostile South African on the other ship. There are problems with illness, unexpected repairs, equipment failure, the usual in stories like this, but Kowal makes them personal to Elma, and therefore more urgent to the reader.
This series is a departure from what I've usually read in Sci Fi, I love the personal element, makes it feel more immediate and real to me. While there are only 2 books in this series, I still hope there's more Sci Fi to come from Kowal.
Recommended Age:

14+

Language:

A handful

Violence:

Peril inherint in space travel, some deaths

Sex:

Referenced