Book Series ::
Grimnoir Chronicles
Grimnoir Chronicles — #1
Hard Magic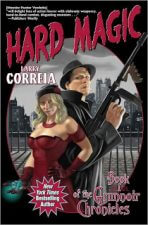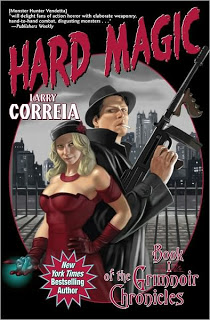 There are very few authors whose body of work makes us cackle with boyish glee. Chris Wooding is one. Jonathan Maberry another. Recently Sarah Pinborough has joined those ranks. For those of you keeping score, when Larry Correia writes something new we drop everything. You can then find us camped out with a flashlight in the living room under a tent made of sheets and blankets. Never mind we own our own homes.
We are just going to come out and say it: Larry Correia's HARD MAGIC (Amazon), book 1 of the Grimnoir Chronicles, is completely fun and awesome. Everyone knows how much we like his Monster Hunter series. We like this one more. Much more. Everything about HARD MAGIC is positively saturated with style…
…well, and explosions of course.
Read the rest of this review »
Grimnoir Chronicles — #2
Spellbound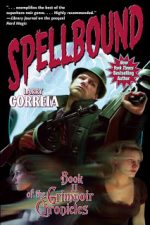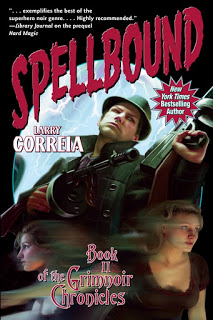 If you are a fan of Larry Correia's work, you've had a sweet year. MONSTER HUNTER ALPHA (EBR Review). DEAD SIX (EBR Review). HARD MAGIC (EBR Review). Yeah… that's some good reading. You know from my reviews that I have liked all of these books. But of all of them, HARD MAGIC is the one that grabbed my attention. It marked the start of a terrific Alternate History Urban Fantasy Dieselpunk Science Fiction Fantasy novel. For the sake of having a usable category, I call it Urban Fantasy.
Anyway…
Read the rest of this review »
Grimnoir Chronicles — #3
Warbound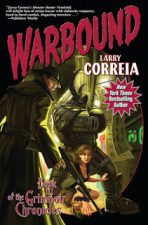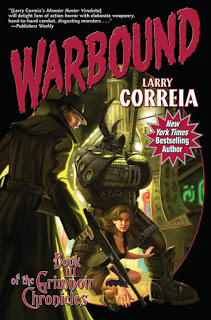 WARBOUND (Amazon) is the third entry in New York Times Bestselling Author, Larry Correia's urban fantasy epic, Grimnoir Chronicles. Though Larry has suggested the possibility of future books set in the Grimnoirverse, WARBOUND wraps up the particular story arc began with HARD MAGIC (EBR Review), an all-time favorite of mine. This is the first time Larry has concluded a series, and so I greeted WARBOUND with much excitement and a degree of reservation. As Larry's fans are well aware, this man knows how to kick off a series with flair – but would he be able to end one in a similar fashion?
Read the rest of this review »