Book Author ::
Wesley Chu
Review
Time Siege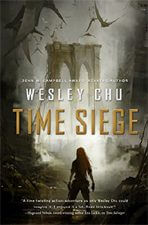 You know what?  I hate writing reviews for sequels.  I enjoy reading sequels very much.  I love talking about book series with my friends and speculating on what might happen in the next volume.  I actually really enjoy the time between books in a series to let it sit and soak in.  I like to reread previous volumes before a new one comes out. But I hate writing reviews about sequels!!!! Have you read the first book?  I don't know.  If you did, did you enjoy it?  Again, I got nothing.  Should I spoil the first book for you here to tell you about the second volume? I don't think I should. But then how do I tell you about this book if I can't even talk about the events of the last book? You see the bind I'm in.
So, let's set some ground rules right from the start. I'm going to assume you've read the first book (TIME SALVAGER, very fun, quick paced, action packed). I'm going to assume you enjoyed it like I did and want to talk about the next book. If that doesn't apply to you then I'm going to give you a short quick review of the series right now: It's good. You should read it.
Are we good? Have we gotten rid of anyone who doesn't want spoilers? Ok then. Onward we go.
Read the rest of this review »
Review
Time Salvager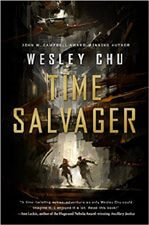 I'm sure you couldn't tell from the title of the book, but TIME SALVAGER by Wesley Chu, is a time travel book. Crazy right? I've read some time travel books in my time. Connie Willis has gotten about a million Hugos for her takes on time travel — TO SAY NOTHING OF THE DOG, DOOMSDAY BOOK, BLACKOUT (EBR review), ALLCLEAR (EBR review]).  Michael Critchton took us back into the dark ages in TIMELINE. There are books that go back to dinosaurs (BONES OF THE EARTH by Michael Swanwick) and just about anywhere you can think of. In most of those books the story revolves around going back to some time period and either a) getting stuck back in time and needing to get back, or b) accomplishing some goal in the past to fix the present.
Chu does none of those things.
Read the rest of this review »
Review
The Lives of Tao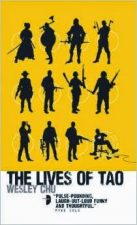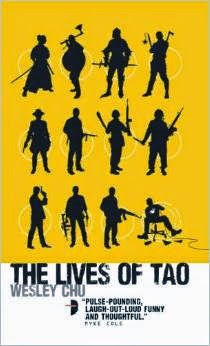 Roen Tan is a truly ordinary guy. He's got a software-coding job he tolerates, his roommate is smarter and better-looking than he is, he visits the bars on weekend, could use a gym membership, and can't bring himself to asking out that cute co-worker for a drink.
Read the rest of this review »