Review: Blackout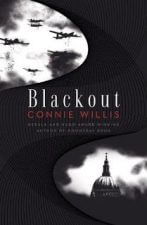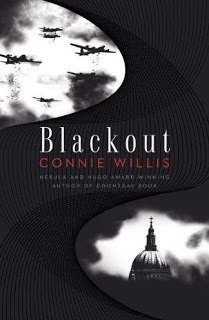 Amazon
I was first introduced to Connie Willis about five years ago when, during the summer, I read both of her Hugo winning novels THE DOOMSDAY BOOK (Amazon) and TO SAY NOTHING OF THE DOG (Amazon). Since then I have been an avid fan of her work. When I heard about her latest work, BLACKOUT (Amazon), I knew it was a must read.
In BLACKOUT, Willis returns to the world of both THE DOOMSDAY BOOK and TO SAY NOTHING OF THE DOG. In this world Willis focuses on a group of historians who, through the use of time travel, are able to go back in time to witness and experience first-hand certain events in history and get accurate data on them.

In Willis' world time travel is an inaccurate science, never allowing the time travelers to approach a point in history that would alter significant historical events, thus you could never go back and kill Hitler before his rise to power or stop American Idol from ever airing. Instead the time travelers often arrive to find themselves either miles away from their wanted destination, or else arriving days or months later than they thought they would.
BLACKOUT follows three such time travelers who are all going back to study England during the bombing raids of WWII. I won't go into the specifics of the characters and their own troubles when they arrive. Half the fun of Willis' novels is getting to know the characters, each of whom is well thought out and real. Indeed these time travelers are a perfect vessel for the telling of these historical stories. Through their eyes we are able to see the little details that they see, and the small variations in life that are so interesting. The time travelers are new to the world of WWII England, as are we, and we get to live the experience with them.
And that's the other fun thing about Willis' books, the details. Willis is known for being an avid researcher before she starts writing, and it shows. After having read this book I feel like I could visit London and recognize streets, shops, parks and pavilions based entirely on the world Willis has shown me. If History teachers were half as entertaining as Willis I would have attended their lectures much more often. BLACKOUT is an SF novel that reads like Historical Fiction.
BLACKOUT looks like Connie Willis has perfected her design. The book was fun, serious, gripping and ultimately very entertaining.
THE DOOMSDAY BOOK dealt with similar issues as BLACKOUT, except instead of WWII England it was about a small town during the spread of the black plague. TO SAY NOTHING OF THE DOG dealt with a light adventure in Victorian England. Where THE DOOMSDAY BOOK was very bleak and dark and heartbreaking, and TO SAY NOTHING OF THE DOG was light and funny and whimsical, BLACKOUT is a perfect blend of the two. There are terrible things happening in England; it is a hard time to be alive and Willis conveys that beautifully. But we also are able to see the moments of joy that each person is able to find amidst the ruins. Willis toes the line between comedy and tragedy beautifully and the end result is her best book yet.
In the end, BLACKOUT looks like Connie Willis has perfected her design. The book was fun, serious, gripping and ultimately very entertaining. The only thing that would keep this one off of next year's Hugo ballot is if people are put off by the fact that this is only half a book. I am not one of those people. I thought it was brilliant and I can't wait for more. ALL CLEAR (Amazon), the other half of the story begun in BLACKOUT, comes out this October. Do yourself a favor and pick up BLACKOUT now so you're ready for ALL CLEAR when it comes out.
Recommended Age:

16+

Language:

Maybe a few words but nothing big at all

Violence:

Mostly after effects of war violence, no gore

Sex:

None