Book Author ::
Matt Harry
Review
Sorcery for Beginners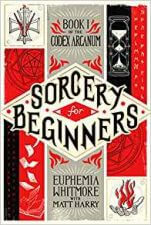 Owen is your average Middle Schooler: he's ok at sports, he passes his classes, and he has a couple friends. But when his mom leaves to work in Sumatra and dad takes him to live in Las Vegas, Owen is sure life will never be the same.
Even then, he didn't account for finding the Codex Arcanum bookstore and buying SORCERY FOR BEGINNERS. Now his life is *really* going to change.
SORCERY FOR BEGINNERS claims it's what the title says: that this book will teach you, via story and real-life examples, how to become a sorcerer. You'll follow Owen's story as he buys the book after being promised the "Spell to Rewrite History" which Owen plans to use to revert to the time before his mom left.
Read the rest of this review »