Review: Sorcery for Beginners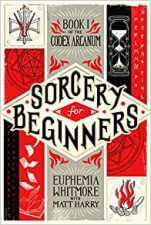 Amazon
Owen is your average Middle Schooler: he's ok at sports, he passes his classes, and he has a couple friends. But when his mom leaves to work in Sumatra and dad takes him to live in Las Vegas, Owen is sure life will never be the same.
Even then, he didn't account for finding the Codex Arcanum bookstore and buying SORCERY FOR BEGINNERS. Now his life is *really* going to change.
SORCERY FOR BEGINNERS claims it's what the title says: that this book will teach you, via story and real-life examples, how to become a sorcerer. You'll follow Owen's story as he buys the book after being promised the "Spell to Rewrite History" which Owen plans to use to revert to the time before his mom left.

But first, he's got a lot of learning to do before he can do such a high-level spell. Along the way SORCERY FOR BEGINNERS (Amazon) provides footnotes about how sorcery works, enchanting details (used to help readers understand references, for example, in Chapter 6, "Invented in 1994, World of Warcraft is a massively multiplayer online role-playing game, or MMORPG. It currently boasts over 8 million members worldwide, and its addictive nature has led to the lower GPAs of many a middle school student"), and information about sorcery's enemy, the Euclideans. There's also interspersed pages of the spells themselves with cheeky descriptions and instructions for use.
Owen learns the hard way that he really needs to follow the instructions in SORCERY FOR BEGINNERS if he plans to survive middle school.
As would be expected from a middle schooler, Owen doesn't always make the best choices when it comes to using magic. He's given instructions by Euphemia Whitmore, the woman Owen met at the Codex Arcanum bookstore and who sold him the book, to not tell anyone about the reality of magic and to protect the book from enemies of sorcery. Of course the whole book is about how he doesn't exactly follow those instructions and the life-threatening fallout that's the result.
Along the way Owen meets new friends Perry and Trish, two girls from school who also like a little cosplay. Alec, a local show magician they try to get to help teach them. Of course there are baddies such as the Euclideans' leader Kiraz and local crime boss Ferretti. Since the book is from Owen's PoV we learn the most about him; it's his character arc that's most important, and fortunately he does experience growth. The other characters are relatively basic with enough detail so I don't forget who is who, but I didn't feel like it was much beyond that.
While the magic aspect isn't something new, the author Matt Harry uses it consistently and with sufficient detail (along with the necessary limitations) to make it work with the story, along with the difficulties learning it to using it in a fight. While there are still questions at the end, this is only book 1 of a projected series, and I was satisfied that by the end I had a good handle on how it worked.
It's a fun book. Nothing particularly groundbreaking, but it's funny and exciting. If your middle schooler liked, for example, Sanderson's ALCATRAZ VERSES THE EVIL LIBRARIANS (Amazon) this is only slightly less silly.
Recommended Age:

12+

Language:

Minor but a few

Violence:

Peril and a few broken bones, death threats

Sex:

Teen crushing
# 1: Sorcery for Beginners

—

This Review

—Amazon