Book Author ::
Emily St. John Mandel
Review
Station 11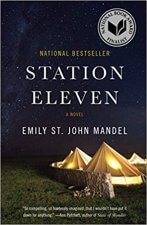 If you're looking for a book that focuses on character development, then STATION 11 is the book for you.
Or maybe plot isn't so important and you like meandering through a setting that is both familiar and foreign.
It may also be that you like books with elements that don't seem important to the plot as a greater whole OR maybe you find satisfaction with plodding through 280 pages before you start seeing the connections between the characters and plot points.
If this is the case, you might just enjoy STATION 11. Alas, those aren't the kinds of things I look for in a book. I definitely wasn't the target audience.
Read the rest of this review »