Best of 2011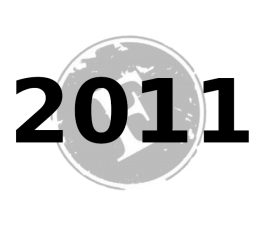 It was our New Year's Resolution for 2011 to make sure that our Best of 2011 post actually made it into 2011. And yeah, we totally nailed it! (Barely)
This year was just unreal. How do you pick the best books when there were so many freaking amazing ones? The answer?
Dart-board……….. OK not really. Maybe. And like usual, we cheat if an author had more than one book out.
BEST OF 2011–These were our collective favorite reads of the year.

I DON'T WANT TO KILL YOU by Dan Wells (Amazon)
THE SCARAB PATH by Adrian Tchaikovsky(Amazon)
THIRTEEN YEARS LATER (Amazon) and THE THIRD SECTION (Amazon) by Jasper Kent
THE CRIPPLED GOD by Steven Erikson (Amazon)
VARIANT by Robison Wells (Amazon)
THE CURIOUS CASE OF THE CLOCKWORK MAN by Mark Hodder (Amazon)
AMONG OTHERS by Jo Walton (Amazon)
THE HEROES by Joe Abercrombie (Amazon)
THE DRAGON'S PATH (Amazon) and LEVIATHAN WAKES (Amazon by Daniel Abraham, James S. A. Corey
DEMONSTORM (Amazon) and RAVENSOUL (Amazon) by James Barclay
EMBASSYTOWN by China Miéville (Amazon)
READY PLAYER ONE by Ernest Cline (Amazon)
HARD MAGIC (Amazon) and SPELLBOUND (Amazon) by Larry Correia
IRON JACKAL by Chris Wooding (Amazon)
HONORABLE MENTIONS–any other year these would have made our "Best Of" list (and that list is already crazy awesome and long!!!!!):
THE ALLOY OF LAW by Brandon Sanderson (Amazon)
STONEWIELDER by Ian C. Esslemont (Amazon)
THE SOUL MIRROR by Carol Berg (Amazon)
CHILDREN OF THE SKY by Vernor Vinge (Amazon)
THE GIRL WHO CIRCUMNAVIGATED FAIRYLAND IN A SHIP OF HER OWN MAKING (Amazon) and DEATHLESS (Amazon) by Catherynne M. Valente
WITH FATE CONSPIRE by Marie Brennan (Amazon)
DEADLINE by Mira Grant (Amazon)
Yeah… as you can see this year was just AMAZING. The books above are a mix of all the reviewers' various picks. We feel absolutely horrible for leaving off any other awesome books, but we had to cut it off somewhere.
***

COMING IN 2012…
After the year we just had, you'd think we'd be jaded. No freaking way. 2012 is set to blow our (and therefore, your) minds!
REPUBLIC OF THIEVES by Scott Lynch (for real this time)
THE KING'S BLOOD by Daniel Abraham
CALIBAN'S WAR by James S. A. Corey
EXPEDITION TO THE MOUNTAINS OF THE MOON by Mark Hodder
BLUE REMEMBERED EARTH by Alastair Reynolds
THE SKYBOUND SEA by Sam Sykes
THE GAMES by Ted Kosmatka
FORGE OF DARKNESS by Steven Erikson
A MEMORY OF LIGHT by Robert Jordan and Brandon Sanderson
THE DAEMON PRISM by Carol Berg
A RED COUNTRY by Joe Abercrombie
MONSTER HUNTER LEGION by Larry Correia
THE SEA WATCH by Adrian Tchaikovsky
ORB SCEPTRE THRONE by Ian C. Esslemont
THE BONEYARDS by Kristine Kathryn Rusch
THE CHOSEN SEED by Sarah Pinborough
BLACKOUT by Mira Grant
THE DUSK WATCHMAN by Tom Lloyd
There are a bajillion other books coming out next year that we didn't list. Let's face it, we are book readers. There are probably dozens more books coming out y our favorite authors that we don't even know are coming out yet. That's the nature of the game.
Looking to scan through the reviews we wrote in 2011? We've got you covered. Check em out here –> (EBR Archive).
So, sound off in the comments below about your own choices for best of the year and which ones you are the most excited for.
Parent page: Best-of Lists