Review: The Book of Magic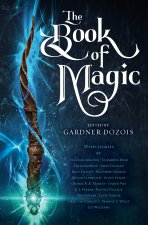 Amazon
Gardner Dozois writes in the introduction to THE BOOK OF MAGIC (Amazon) that he "[…] endeavored to cover the whole world of magic" (xv). The stories collected in this anthology cover a wide range of magical people and places. While there are plenty of wizards in robes, magic takes many shapes in this anthology.

It's no mistake that THE BOOK OF MAGIC begins and ends with comic fantasy. The energy and humor of showcased in the first and last stories propels the reader into the anthology and sends them off with a smile. The first story, K.J. Parker's "The Return of the Pig" follows a wizard reluctantly returning to his hometown to find a new magic user, while also trying to outwit his rivals. "The Fall and Rise of the House of the Wizard Malkuril" by Scott Lynch begins with a wizard, but ends with a sentient house and several tribes of kobolds trying to make it in a tough world. It's funny and sweet at the same time. While these stories differ in scope and setting, they share a sense of the absurd and were some of my favorites in the collection.
There are also plenty of amusing and wry tales in between. "The Devil's Whatever" by Andy Duncan or "No Work of Mine" by Elizabeth Bear were good examples of lightheartedness combined with tight writing. Duncan's voice is especially strong in his story about the Devil's son-in-law trying to extricate himself from a tricky trap laid by the old man.
Quite a few of the stories had at least some connection to an author's previous works, whether they were returning to familiar characters or worlds. For example, the protagonist of Lavie Tidhar's "Widow Maker" is Gorel of Goliris, whose stories are collected in Tidhar's anthologies. I hadn't read Tidhar before and this tale was strange and compelling, standing well on its own without the other stories as context.
THE BOOK OF MAGIC has a little bit of something for everyone... as long as you're looking for something Fantastical. A great read.
One of the few pieces that fell flat for me was "The Song of Fire" by Rachel Pollack, not because of poor writing, but because her story was so deeply enmeshed with her previous work that even the expository heavy-lifting she did couldn't save the story for me. If you're already a fan though, I'm sure this was a fun installment.
It was hard to choose stories to highlight for this review because the quality was high and I really enjoyed most of the offerings–this would be a great way to browse and discover authors to love. For me I also rediscovered old favorites. It's been a while since I've read Megan Lindholdm (aka Robin Hobb) ("Community Service") or Kate Elliot ("Bloom"), and both of their selections reminded that I should remedy that soon. Lindholm's story was a modern fantasy with a super creepy toy-eating witch while Elliot's offering was a more traditional fantasy setting but with an interesting magic system and an unlikable protagonist who had a nice arc. Other old favorites that caught my attention included "The Staff in the Stone" by Neil Gaiman, a story of a wizard who wants to be left alone but is forced to out himself from hiding to save the village he resides in.
If you are looking for urban fantasy, Greg Van Eekhout's "The Wolf and the Manticore" was set in LA with hints of a radically different future and some cool bone magic. If you're looking for more slipstream, steampunk, or urban fantasy, you might be advised to look elsewhere. This is fantasy with a capital "F."
Each story is about 30 pages, which I mention only because that's long enough to potentially produce bloated stories stuffed with unnecessary words and characters. Luckily for readers, THE BOOK OF MAGIC contains stories that use their word count wisely to bring together fantastic characters and magic in an entertaining array. A strong anthology with a number of memorable stories, THE BOOK OF MAGIC will delight readers.
Recommended Age:

12+

Language:

One or two stories with more language, most with very little.

Violence:

Yes. Magic can do nasty things to people, but generally not tons of gore.

Sex:

Very little. Allusions mostly.