Giveaway: Book Bundle 2019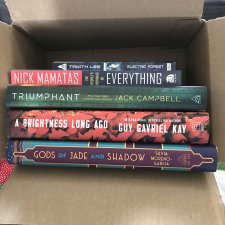 ***Updated 12/29/19, this giveaway is closed: Jesse B of Gardland TX is our winner. Congrats! The books will be on their way soon.***
2019 is almost over and Vanessa is cleaning out her shelf of a few extra books. You can win this (eclectic) box of books published within the last year (mostly), which includes:
ELECTRIC FOREST by Tanith Lee (EBR Review)
THE PEOPLE'S REPUBLIC OF EVERYTHING by Nick Mamatas
TRIUMPHANT by Jack Campbell
A BRIGHTNESS LONG AGO by Guy Gavriel Kay (EBR Review)
GODS OF JADE AND SHADOW by Silvia Moreno-Garcia (EBR Review)
To win this book bundle:

1. Email us at elitistbookreviews@gmail.com
2. Include the following on the subject line: BOOK BUNDLE 2019
3. In the body of the email include your name and mailing address. This giveaway is only available to U.S. addresses.
Giveaway rules can be found here. Entries will be accepted until midnight of December 25th and the winner will be posted on December 26th (or 27th… if I'm too busy). Good luck!