Review: Gods of Jade and Shadow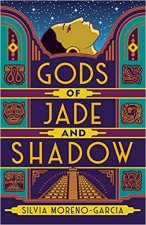 Amazon
From the cover: "The Jazz Age is in full swing, but Casiopea Tun is too busy cleaning the floors of her wealthy grandfather's house to listen to any fast tunes. Nevertheless, she dreams of a life far from her dusty small town in southern Mexico. A life she can call her own. Yet this new life seems as distant as the stars, until the day she find a curious wooden box in her grandfather's room. She opens it–and accidentally frees the spirit of the Mayan god of death, who requests her help in recovering his throne from his treacherous brother. Failure will mean Casiopea's demise, but success could make her dreams come true."
I spent some time thinking about this book since I finished it, not really sure how to write this review. The book was simultaneously straightforward storytelling but also unexpected. The characters were recognizable but foreign. And the ending was surprising yet also what it should have been. GODS OF JADE AND SHADOW is the kind of book that straddles genres (mythical/gods and coming-of-age), audiences (adult and YA), and themes (love/loyalty/family and the value of self) – which makes it a difficult book to define.
The first chapter of GODS OF JADE AND SHADOW almost didn't keep me going. Moreno-Garcia's depiction of our main character Casiopea was a little blunt, enough so that it felt like the start of any other young-girl-finds-adventure story: she's clever and feisty, but poor and downtrodden. Fortunately we don't have to wait long until Casiopea's story becomes an adventure, and she's whisked away in the company of a Mayan god of death.
His name is Hun-Kamé, and he's about what one would expect a Mayan god of death to be: arrogant, powerful, and definitely not human (even if he looks like one). He's simultaneously grateful for Casiopea freeing him from his brother's imprisonment, but at the same time forces her to help him. His brother has hidden important parts of Hun-Kamé throughout Mexico in a bid to force him to track them down, all risking his own strength to do so. Will Hun-Kamé and Casiopea make it through these roadblocks before time runs out?
Along the way Casiopea is introduced to a strange world of demons, witches, sorcerers, what the underworld is really like, and the infighting between gods. Despite the fantastical nature of Casiopea's adventures through Mexico and the magical undercurrents that flows through it, one can't help but wonder if maybe a little bit of it is true.
Moreno-Garcia's GODS OF JADE AND SORROW is a modern mythology fantasy about gods, destiny, change, and understanding your true self.
Moreno-Garcia takes Mayan myths and weaves a story in a more modern era, forcing an ancient god to face a reality of modern times and a modern woman like Casiopea, who knows what she wants, and it definitely doesn't involve being chained to a man (or god) for the rest of her life. She does what she must to help Hun-Kamé and be freed from her ties to him. But, of course, close proximity to the other changes them both: Hun-Kamé learns what it means to be human and Casiopea realizes strength she didn't know she had. Ultimately they must both make choices that involve great personal sacrifice–choices that could change not only them, but the world, because Hun-Kamé's brother's plans involve re-instituting human sacrifice, as in the old days.
GODS OF JADE AND SHADOW is engaging, easy to read, and shows readers a setting that will likely be very unfamiliar. But at the same time, contains themes that are familiar and universal.
Recommended Age:

13+

Language:

A handful

Violence:

A handful of instances, but more PG rated

Sex:

Kissing and vauge references