Review: Meet Me in the Future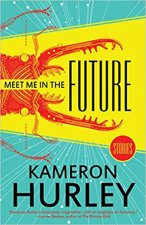 Amazon
Kameron Hurley owns weird.
Since her first novel, GOD'S WAR, she's developed a motif. All writers have them. All writers hone them. And in the near decade since she crawled out from a dead man's corpse with her first novel, she's consistently gutted it toward nasty perfection. I'd be biased to say I don't love her disgusting motif.
She's New Weird with her body-hoppers, mind-wipers, and amoral assassins. Also, she had a literal bee gun that eats the flesh of its victim in last year's APOCALYPSE NYX (EBR Review), so there's darkly creepy done sinister. But with her latest book, MEET ME IN THE FUTURE, a short story collection, Hurley turns to a different theme.

Can you guess — it's the future. With that shocking revelation out of the way, we can dive into it. Yet it's difficult to evaluate every individual story in a tight manner. I'd be lying to say some stories didn't resonate with me, or some stories just were too odd for me.
But what I can say is this: this is a short story collection you should read. Kameron Hurley's given considerable thought to each entry, from "The Light Brigade", a story about a war between Martian colonists and teleporting Terran soldiers, to "Elephants and Corpses", one of my favorite short stories about a cynical body-swapping mage stuck in a perpetual state of misery.
Even though the collection varies from dark fantasy to hard Science Fiction, the key theme of the future ties them all together. They're futures that reflect the immediate political landscape. They're futures that envision hellish nightmares far worse, a what-the-world-could-be. They're futures that might have been, a more positive vision of the world. But even the body-swapping mage short story doesn't lose sight of the collection's binding theme.
Here's the future, in all its warty and fluffy glory.
Every story, every character, and every bit of line, paragraph, and page pushes that idea like a petulant gnat sucking the life from you. Pay attention, listen to what's being said, and you might just hear something you like, or consider in a different light. Add to the fact the opening is, frankly, a refreshing candidness about the future, and the reality of being a writer.
Kameron Hurley presents a series of bizarres futures. Some tragic, some hopeful, and some down right nasty. And I loved it! Step inside for an ode to weird.
In those opening pages, Kameron Hurley shows she's a writer who embraces her weirdness, waves it up in the air, and then blows you away with a scathing bee gun that eats away your vapidity. She then flies her readers to a mucus covered, giant jellyfish shaped sky without giving a damn.
MEET ME IN THE FUTURE is strange, brutal, and, at times, darkly funny. While it's not perfect in its overall composition, it's that imperfect balance that makes it so dang enjoyable to read.
Go read this salute to weirdness.
Recommended Age:

15+

Language:

English

Violence:

Explicit

Sex:

Explicit