Review: Jade War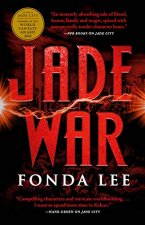 Amazon
The clan is my blood, and the Pillar is its master.
That's right folks. We're back in the land of jade and honor and… business meetings!

JADE CITY introduced readers to bioenergetic jade and the powerful Kaul family that rules the No Peak clan. JADE WAR (Amazon) expands our understanding (as all second novels should) of how jade works and who wants it. Sometimes learning more about jade means fights with smugglers or finally getting vengeance for the death of No Peak's former pillar, Kaul Lan. And sometimes it means sitting down and talking with ambassadors, liaisons, scions, and businessmen.
Lee is meticulous in building a broader world; some of her work pays off in the richness and depth of the Green Bone culture and in the textured and believable world. Some of the expansion feels lost in the bureaucratic details of names and geopolitical conflict. Messy-middleness notwithstanding, the Kaul family continues to be the beating heart of the novel and their lives, loves, and losses make good reading.
JADE WAR covers the sweep of five years. While the clan war has ostensibly come to a halt, there are any number of 'wars' that the Kaul family of the No Peak clan must continue to fight or account for. The most obvious is the actual proxy war being fought between world powers in the nearby country of Oortoko, which requires a heavy military presence in Kekon.
The eponymous jade war might also refer to the clans' fight against the rise of black market smugglers like Zapunyo. An infrequently seen, but important antagonist in the book, Zapunyo takes advantage of the war to steal and smuggle increasing amounts of jade and drugs like SN1 (shine).
The clans face existential questions within the themselves, which leads to internal battles. Now that bioenergetic jade is out in the world it can't be taken back. Military forces, gangsters, criminals–all of these people don't follow the green bone code and exploit jade for their own purposes. Lee lays out what the consequences of this look like, both for Kekon and the Kauls.
Lee's worldbuilding is incredibly thorough. Of course, while there's plenty of combat potential, Lee never ignores the domestic implications of jade. She's even thought about what it might be like to keep an incredibly dangerous substance like jade in homes with small children–a plot point that really caught my eye.
In expanding the world, Lee's admirable commitment to reality trips her up sometimes. There are a few too many strategy meetings and geopolitical calculations. Along with the rapidly expanding expanding cast of secondary and tertiary characters, this means that sometimes there's just A LOT of names in a chapter. Even if you know they're not important, it's hard not to feel inundated with information.
It also means that other characters, like Maik Kehn and Maik Tar, never become more fleshed out. I've read two books now and I honestly couldn't tell you a single distinctive characteristic of either brother. The lack of characterization is notable because the Maik and Kaul families' destinies are so intertwined.
The action is still fun, but it's Lee's stellar characters and their relationships which are the emotional engine that propels JADE WAR.
Luckily, Lee crafts compelling, believable arcs for all of her POV characters. Shae and Hilo's arcs are linked as they both experience the growing pains of filling the respective roles of Weatherman and Pillar. Both of them get satisfying personal and professional arcs as they try to help the clan survive. I especially loved Shae's arc–what I thought was a nice love story became so much more. The clan asks everything, and as Shae and Hilo choose to answer its call they must live with the consequences.
Anden's arc takes him to Espenia, which allows him to get away from the all-consuming dictates of the clan. His exile also allows Lee to showcase the expat Kekonese population. I like Anden–he's thoughtful and careful and quiet and honorable, trying to stand strong in his own convictions. While it's clearly important to be in Espenia, I found his sections to be less compelling than Shae or Hilo's. Perhaps it's just the inevitable shift of things: in the last book Anden was going to a super-cool martial arts school. Now he's taking Espenian as a second language classes.
Other familiar POVs pop in. I enjoyed seeing more of Bero, the jade thief, and I was happy to see more from Wen, Hilo's wife. She gets some bigger moments in this book and I think she offers an important perspective as someone who is both an insider (as the pillar's wife) and an outsider (as a stone eye) in the clan.
Like many second installments, the pacing in JADE WAR gets bogged down as the focus expands from Janloon to the world. However, the action is still fun and it's Lee's stellar characters and their relationships that propel JADE WAR and make me excited for the next one.
Recommended Age:

16+

Language:

Yes, moderate swearing.

Violence:

Torture, fighting, shoot-outs, duels, assasinations.

Sex:

Several scenes with fairly explicit detail.