Review: The Fever King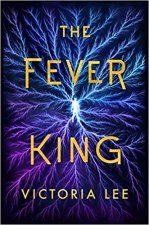 Amazon
To borrow a phrase from The Princess Bride, Victoria Lee isn't writing to the death in THE FEVER KING — she's writing to the pain. So when I characterize this novel as dark and unsettling, I have to believe that Lee would take that as a complement.

THE FEVER KING is unabashedly political in its exploration of power, identity, and sexual abuse; it certainly won't be everyone's cup of tea. I think the question of how topical a novel is a little wearying (especially given the long slog to publication) and I want to be clear that when I say political, I don't mean 'Democrat' or 'Republican'. Instead THE FEVER KING is interested in politics as the mechanism used to manage difficult, international situations like the refugee crisis at the heart of the story. However, Lee's strong prose and stronger characterization elevate it past a mere statement to something more.
THE FEVER KING begins when a magical outbreak sweeps through the slums of the Durham, leaving Noam Álvaro is the lone survivor. The virus that kills his father makes Noam a powerful 'witching' and he's personally recruited by Calix Lehrer, the most powerful witching alive. Lehrer, the man who brought down the United States government over 100 years ago, currently serves as the Minister of Defense in the kingdom of Carolinia. Noam sees Lehrer's offer as his chance to take down the current government, which has relentlessly persecuted refugees like his family. And the best part is that Lehrer seems to have the same idea.
Lehrer also mentors another student, Dara Shirazi, who is brooding and damaged in ways that Noam can't quite grasp. As Noam gets closer to Dara and more entangled in Lehrer's plot, Noam must puzzle out questions of power and consent, in both the personal and political realms and ask himself what the cost of the revolution will be.
Lee's prose is effective and Noam's discovery of the extent of the corruption and power at play around him will keep readers hooked. She weaves together reveals and twists and there were a number of moments when I was genuinely uncertain where the story would go, which I appreciated. The worldbuilding in THE FEVER KING will also draw readers in. Scattered throughout the novel are 'found documents' that fill in some of Lehrer's backstory. While I sometimes find these types of insertions annoying, here they were a fascinating glimpse into what went wrong in the United States and Lehrer's own abuse at the hands of the United States government.
To borrow a phrase from The Princess Bride, Victoria Lee isn't writing to the death in THE FEVER KING, she's writing to the pain.
THE FEVER KING does suffer from some first-novel jitters. Lee tends to overwrite certain moments, particularly conversations. She is acutely, intensely aware of physical interactions between characters until every touch on the wrist, every casual brush of the hand seems sinister, or at least very intentional — it's effective. One of her themes is exploring the way teens are groomed and sexually abused, and within that context these moments matter. However, the cumulative effect can feel tiring.
Perhaps Lee's greatest strength is her complex characterizations. There is no black and white here, just layers and layers of gray. Lehrer is simultaneously a fascinating and horrifying character: persuasive, controlling, believably inspirational and also disturbing. Noam is simultaneously vulnerable and strong and provides an interesting POV. Noam and Dara's relationship isn't just complicated because of typical YA tropes, but because they believe fundamentally different things about Lehrer and his intentions for the country. They come from different backgrounds and there is a history of deeply scarring abuse that changes how they interact. It's a lot, but Lee handles it deftly.
THE FEVER KING left me with mixed emotions. It's a strong debut, but I'm also not sure how strongly I would recommend it. I thought about it for days afterwards, which I supposed means that it was effective. It also ends with a huge, and especially painful slice of narrative irony (which for SPOILER reasons I cannot reveal). It will be interesting to see how Lee chooses to resolve or extend Noam's situation in the next book.
Recommended Age:

15+

Language:

A LOT of swearing

Violence:

Deals with sexual abuse, specifically the rape of a minor

Sex:

Yes, with some detail