Review: Writers of the Future, Volume 34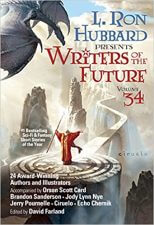 Amazon
I find it somewhat unsettling how quickly I tend to look past the art associated with this annual anthology. Well, if I'm being truthful, I tend to naturally look past most of what is offered in these anthologies other than the stories from the winners. Because it's those stories that most have the chance of speaking to my soul, as an aspiring author myself. And yet, this time around, I've made it a goal to give special attention to those "extras". After all, it's the winners of the "Illustrators of the Future" that will be penning the future covers that will catch my attention enough to get me to pick up books and give the first handful of written pages a chance at catching my mind afire. As well, it is the extra writings–the essays and sometimes stories from the judges of the contest–that represent what they admire and enjoy in fiction. There is indeed much more to this anthology than just a simple collection of stories by a bunch of newbie, but not always unskilled, writers of fantastical fiction.

WRITERS OF THE FUTURE Volume 34 (Amazon) felt like it was somewhat longer than the normal anthology, and thus gave us a little more of that shiny goodness it always tends to do. I was kind of excited this time around too, because before reading it, I learned that the Grand winner for the year was local to my area–someone I'd even met once before in a very unofficial setting, though I doubt she'd have cause to remember me–and I was excited to see what she'd written. It's not always that I find the stories within these anthologies to align much with my own tastes, after all.
This time around, I'd have rated the official WotF winner stories as such:
Loved: 3
Mediocre: 5
Liked and Hated: 1
Didn't Like: 4
Fairly solidly in the mediocre range, with about half of them spread about further from the mean. My favorites were the following:
Mara's Shadow by Darci Stone: This story won the grand prize for the year, and I can heartily agree that it was the best of the bunch. An etymologist studies a new species of moth that seems to be carnivorous and causes a maggotty death for a small population of the world when bitten. The story was a combination of news reports, the main POV character, and the POV of a 200-years past adventurer, all wrapped around the phenomena of the moths. The sections of the story were short, and pulled me along as the mystery at its heart was slowly revealed. Interestingly enough, this wasn't an immersive story, but one more centralized around the idea of the carnivorous moths, and usually I don't go in for stories like that, but the author won me over by hooking my interest, while painting a fairly sympathetic character at the same time.
A Bitter Thing by N.R.M. Roshak: A woman falls in love with an alien that displays its emotions on its skin. Within his species, their emotions transfer from one to another by seeing them painted upon another, and in this way they easily empathize with one another. The two move in together. The alien learns that patterns of blue are almost drug-like to him. To earn money, he writes a computer program that is like a blue screensaver, and sells it to his fellow aliens. He's reprimanded by his leader on the planet and has to leave. I especially enjoyed the writing and ideas portrayed in this story. It was one, that for me, fully embraced the Science Fiction genre by having the story be about the idea, but still had the impact to the character built into the core of the presentation and the ending. My favorite kind of Science Fiction.
Miss Smokey by Diana Hart: "Shifters" that can morph between human and animal forms are common place on Earth. A she-bear works as a "Smokey the Bear" replacement at a Forest Reserve location. (I couldn't help but be pulled in by this, as I'm a child of the 80's and Smokey the Bear was a staple of my early education.) She interacts with a man-bear that doesn't want to be registered and ends up having to deal with some poachers. This was another one where I really enjoyed the writing, and although the fantastical elements were pretty common-place to the fantasy genre at large, it told a story that consumed me with its unfolding and had a great character at the center of it.
One of the most long-standing and well-respected contests in the the world, WRITERS OF THE FUTURE VOLUME 34 has some winning stories.
I mentioned twice in those three examples that I enjoyed the writing, but the truth of the matter is that essentially all of these stories were well-written. Of the decades-worth of WotF stories that I've read, I can only remember thinking something was poorly-written a very few times. There seems to be a fairly-high amount of importance placed upon how well the story is written for WotF. Meaning, they read easily, and you don't feel like you're mentally tripping over yourself when you put the words together. Additionally, from my perspective, there's also a fairly skewed leaning toward the Science Fiction genre, in general, over Fantasy in WotF. Strictly-speaking, there were six of each in this anthology, and yet still I found that I liked fewer of the Fantasy stories here than the Science Fiction ones, despite the fact that I usually prefer reading Fantasy.
Of the remaining ten newbi stories , I ended up not caring for them overly much because either they had truncated or unjustified endings, were too slow and boring for my likes, or were so utterly ridiculous that I just couldn't help but not take them seriously.
The illustrations this year were fairly impressive all-around, in terms of quality. I'm no guru on art now, but in my estimation most of them could still use some experience in determining just what might pull a reader into picking up a story that is bound by their graphic work, but then again, I guess these are technically newbie artists as well. My favorites of the bunch there were those for Odd and Ugly (Reyna Rochin), A Bitter Thing (Jazmen Richardson), and All Light and Darkness (Duncan Halleck). At least, those were the ones that most intrigued me as a reader. Though, funny enough, none of those were first-place winners. 🙂
Of the extra stuff put forth by the judges, we got an excerpt from Way of Kings by Brandon Sanderson entitled, "The Lesson", that is by far my favorite sequence from that novel. Orson Scott Card also included an essay on Theme that is just brilliant. Every new author, and for that matter every published author, should read that essay and take it's tenets to heart. Seriously good stuff and spot on the button from my perspective. Additionally, an essay on Suspense by L. Ron Hubbard and a fantasy story by Jodi Lynne Nye were included, but I'd read one of them before and wasn't much a fan of the other.
At the time of this writing, the anthology can be traded for just a bit more than a 10-spot from the ol' wallet, and if you're an aspiring author like myself, you could hardly do worse than to spend your hard-earned cash, and woefully insufficient time, on reading and learning-from this anthology. It's one of the most long-standing and well-respected contests in the world, and one that I've submitted to more than a few times. In fact, I have a story right now that I'm trying to get out for next quarter. If you're a writer, and you aren't yet, you totally should too.
What do you say? Meet you at the finish line?
Recommended Age:

14+, for the most part

Language:

Fairly few instances and even at that, nothing overly strong

Violence:

PG-13 worthy in some of them, but again relatively mild on the whole

Sex:

Threat of rape in one, and some mildly risque relations in another. Nothing one might call explicit though.