Review: Writers of the Future, Vol. 31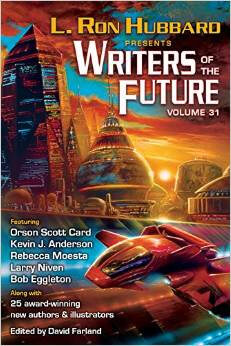 Amazon
Writers of the Future is quite easily one of, if not the, most prestigious contests in the world for speculative short fiction. The contest runs each quarter of the year, with the top three stories in the bunch being awarded with publication in the anthology, a place-dependent cash prize, royalties on the anthology they are published in (I believe), and a free week-long writing retreat with all of the new authors published in the anthology being taught by a large cadre of impressive, published authors. It's no small thing, this "little" contest. If you're a new writer, you should absolutely be starting off by sending your short stories there. Start at the top, I always say. Don't short-change yourself by starting anywhere else. If you're not a new writer though, and you find yourself picking this anthology up, you can be sure to find lots of interesting Science Fiction to satiate your palette.

The 31ST VOLUME OF THE WRITERS OF THE FUTURE ANTHOLOGY (Amazon) is exactly what I expected it to be: a solid collection of science fiction stories or stories written with a science fictional flair (yes, even the fantasy), with an emphasis on good writing. This is pretty much a definition that I've come to associate with the anthologies of the past, and my personal opinion.
The contest and I have had a fairly strong love-hate relationship since I first became aware of it. For a handful of years, I submitted stories to the contest every quarter. New story each quarter. I got a bunch of quarterfinalist awards, a few semi-finalist, but never anything more. Never breaking through to the coveted finalist position. To try and figure out exactly what I might be doing wrong (and at the behest of many of the published authors touting the contest) I started reading the anthologies. I read every story from volumes 18 through 26, and I found that although there was a certain sort of consistency to them, it wasn't necessarily my cup of tea.
In this volume there were thirteen stories, with the twelve quarterly winners and one published finalist (which happens occasionally based on the length of the stories that won). Among the stories, my opinion was pretty split with four a-piece in the Like, Mediocre, and Didn't Like categories, leaving one for my coveted Love. There were also a few essays/stories from some of the published authors associated with the contest. In general, I wasn't very impressed with any of the extra content. Although, Orson Scott Card's essay on why he thinks short fiction has died off and why it is yet so vitally important was really quite good.
So how 'bout those stories? I'll highlight a few of the ones that made the biggest impact with me.
"Stars That Make Dark Heaven Light" by Sharon Joos – This was easily the story that most prominently stood up and screamed that it was science fiction. It was about a girl in an off-earth colony that is struggling with a dwindling population who makes a connection with an individual from an alien species that changes her life completely. It dealt with issues of doing things for the good of the community, what it means to be human, and the importance of fiction in our culture. Very good writing. It was everything science fiction is supposed to be. It was also overly long, incredibly sparse on character, and rather boring.
"Between Screens" by Zach Chapman – This was my second favorite story of the anthology and was also the published finalist in the group. Go figure. A kid living on a space station is ditching out on school to go skipping across the universe with his friends to catch glimpses of planet-ending catastrophes. They hit low-use stations and hack the local telescope to view the destruction. As time passes, the gig gets more popular. The only thing this story lacked was an ending. Lots of fun otherwise.
"Half Past" by Samantha Murray – Very well-written story about a girl that subconsciously creates echoes of herself in times of extreme emotion. Each of them lasts for years and are stuck in the time immediately around their creation. The previous night, she had a fight with her father, and has decided to leave his house. Thus she's going around the house saying goodbye to her echoes, and the life she's known, when her aunt shows up at the front door to do a bit more than just say hello. Really quite good and my favorite story of the bunch.
"Twelve Minutes to Vinh Quang" by Tim Napper– This could have been another contender for my favorite story, but it also lacked any kind of an ending. Grumble. This one was about a girl trying to help purchase passage for refugees into the country, and she has to distract two unexpected government officers long enough to let her contact transfer the payments through the proper channels as they all sit at a table in a restaurant. As you can probably tell from my description, his one really didn't depend much on the science fiction elements, but they were there in the story. Still, it felt more like the first chapter of a book, and that kinda rubbed me the wrong way as this is a contest for short stories.
Another round of newbie authors from the WRITERS OF THE FUTURE anthology. A typical range of great and not, but all well written. Author hopefuls, take note
In general, I think if you're a lover of science fiction, you'll find that this anthology has quite a lot of intriguing stuff to offer. It's fun to see the cream of the newest stuff brought together in a single place. I do wish that the anthology had more fantasy in the mix, but as I mentioned before this is really a science fiction anthology, and that's mostly what you'll find.
Regardless, if you're a new author, you should check this out. It can seriously bring you nothing but good.
Recommended Age:

16+, I guess. Although see my comment about sex.

Language:

A fair amount in some stories, but not used profusely. F-words sparingly in one story.

Violence:

Death and some description of its means.

Sex:

Moderately-detailed alien sex with a minor; a couple other sex scenes that are low detail but were a bit more than I expected for a