The Grey Bastards says "Self-Pubbed no more!"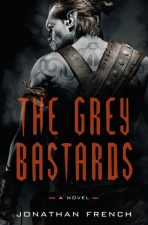 So, most of you will probably remember The Great Self-Published Fantasy Blog Off by Mark Lawrence that we participated in a while ago. That contest has been one of the great ones for getting exposure to the best of the self-published best. The first year we were part of it, the winner, The Thief Who Pulled On Trouble's Braids (EBR Review) got picked up for traditional publication, for all intents and purposes, as a result of that contest.
We can now add another title to that prestigious list.

THE GREY BASTARDS by Jonathan French (EBR Review) now has a home with Crown Publishing and is getting some hardcover treatment! You may have noticed the fancy new cover for the book. As Patrick Rothfuss might say in such a situation: Click to Embiggen.
Yeah, baby. Rowr.
We're uber-excited for Mr. French and thought it would be extremely appropriate to give our review (by Dan) for his book some more much-deserved attention, on this the release date of that hardcover. If you are/were a fan of that story, now would be the time to go out and support him with a purchase. First week sales are killer important for authors. Especially new ones. Fans of our favorites won't be disappointed by getting this one.
Additionally, it looks like the publication has turned into a series as well. Woo-hoo! "The Lot Lands" it's being called, with THE GREY BASTARDS being listed as the first book in the series. It's so awesome to see things like this happen to writers that give us awesome stories to read.
If you're one of those that didn't get to read Dan's review the first time around, here's a quickie:
…Jackal is a half-orc living with his brothers and sister of the Grey Bastards "hoof" in the badlands that separate the human kingdom of Hispartha from the lands of the orcs. They are led by the plague-ridden Claymaster in defending against orc incursion, living by the motto, "LIVE IN THE SADDLE, DIE ON THE HOG". Their mounts are mighty hogs with massive tusks, explosive ferocity, and a surprising amount of loyalty. Despite the long rule of the Claymaster, Jackal has his sights set on being chief, but there are more forces at work than simple ambition that will guide them all to a bloody conclusion…
or you can go check it out in full here (EBR Review).
Congrats, Jonathan! Looking forward to more awesome stories from you in the near future.
And special thanks again to Mark Lawrence and his awesome SPFBO. From what we understand, year 4 of the contest has just started, and the 300-entry limit was filled in just less than 48 hours. We can only hope for more goodness to come.
Later!