Review: The Thief Who Pulled on Trouble's Braids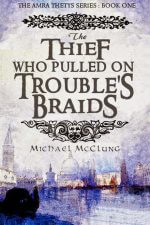 Amazon
THE THIEF WHO PULLED ON TROUBLE'S BRAIDS (Amazon), by Michael McClung, is what Mark Lawrence's Great Self-published Fantasy Author Blog-off is all about. This is the third book I read of the batch I was assigned. I saved it for last because I found the cover appealing, the title enticing, and the synopsis intriguing. The overall package is professional and marketable and because of that it stands out amongst the competition.
THE THIEF WHO PULLED ON TROUBLE'S BRAIDS is a little more than 200 pages long but it's a satisfying sword & sorcery adventure that will appeal to fans of Ari Marmell, David Dalglish, Douglas Hulick, Brent Weeks, and Kelly McCullough.
Here's the synopsis: Amra Thetys lives by two simple rules—take care of business, and never let it get personal. Thieves don't last long in Lucernis otherwise. But when a fellow rogue and good friend is butchered on the street in a deal gone wrong, she turns her back on burglary and goes after something more precious than treasure: Revenge. Revenge, however, might be hard to come by. A nightmare assortment of enemies, including an immortal assassin and a mad sorcerer, believe Amra is in possession of The Blade That Whispers Hate—the legendary, powerful artifact her friend was murdered for—and they'll do anything to take it from her. Trouble is, Amra hasn't got the least clue where the Blade might be. She needs to find the Blade, and soon, or she'll be joining her colleague in a cold grave instead of avenging his death. Time is running out for the small, scarred thief.

THE THIEF WHO PULLED ON TROUBLE'S BRAIDS is told from the first person perspective of Amra Thetys, an ordinary thief in an unordinary world. In her own words she's not terribly feminine, she's got a scarred face, a figure like a boy, and a mouth like a sailor. She's always got a knife hidden somewhere on her body and knows how to use it. She's sarcastic and cynical and she knows her way around the streets of Lucernis. In other words she's the perfect narrator for this type of story.
She's a bit cliché in that sense (the genre is full of similar characters) but I found myself growing attached to Amra as she stumbled from one misfortune to the next. It's hard not to develop affection for a character who shares nuggets of wisdom like this… "I figured stirring up trouble would help keep eyes off me. It's easier to swim unnoticed in muddy water…" and…" Demon crabs spin mucus webs, I thought. This is knowledge I could live my whole life without." 
The supporting cast is equally enjoyable. Amra's friend Holgren is a powerful mage with a hidden past. To my delight Holgren ended up taking a much more prominent role than I first suspected. Kluge is an inspector and a mage of lesser abilities, intent on pinning Corbin's murder on Amra. I doubt that we've seen the last of Kluge. Osskil, Corbin's brother, and Bosch, a fun villain, two more favorites of mine. McClung doesn't delve too deeply into any of these characters but they never felt flat.
THE THIEF WHO PULLED ON TROUBLE'S BRAID takes place in the city of Lucernis, largest city in the West. McClung has imagined a fascinating fantasy setting with its own colorful culture and weighty history. This is the novel's biggest draw. I found funerary practices in Lucernis to be especially interesting — final meals with the deceased in attendance, professional mourners, and graveyard guardians. There are gods and demons and magic and better yet, it all feels refreshingly original. It's an investigatory sword & sorcery novel but there's a hint of epic fantasy running under the surface. I'm eager to read the sequel, THE THIEF WHO SPAT IN LUCK'S EYE, so that I can learn more about the world Amra inhabits.
THE THIEF WHO PULLED ON TROUBLE'S BRAIDS is a model of what self-published fiction can be. McClung obviously takes great pride in his craft.
Amra's narration propels the plot forward at a brisk pace. There's a strong sense of forward momentum as McClung refuses to linger in any one area for longer than necessary. As a result readers get a grand tour of the city of Lucernis. And while sometimes I wished the story had stopped to smell the roses for just a bit longer it was only because I was keen to learn more. I did manage to solve the central mystery before the end of the book but that did little to diminish my enjoyment.
THE THIEF WHO PULLED ON TROUBLE'S BRAIDS is a model of what self-published fiction can be. From the propulsive prose to the clean editing it is evident that McClung takes great pride in his craft. I am fortunate to have been assigned this novel and I will be reading the sequels and I intend to support it in the next phase of the Great Self-published Fantasy Blog-off.
Recommended Age:

14+

Language:

Mild

Violence:

A dude's body gets magically exploded

Sex:

Prostitution is mentioned but there is no explicit sex