Giveaway: A Lot Like Christmas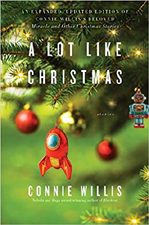 This giveaway is closed.
Updated: Congratulations Joshua from Lakewood, Colorado. Your book will be in the mail on Friday. Thanks all who entered and better luck next time.
Up for grabs in time for the holidays is Connie Willis' beloved (updated and expanded!) collection of Christmas short stories, A LOT LIKE CHRISTMAS. EBR will send you our spare copy of this book to read for yourself or for you to give to your special someone who loves good Sci Fi. To enter this giveaway:
1. Email us at elitistbookreviews@gmail.com
2. Include the following on the subject line: CHRISTMAS GIVEAWAY
3. In the body of the email include your name and mailing address. This giveaway is only available to U.S. addresses.
Giveaway rules can be found here. Entries will be accepted until midnight of November 23 and the winner will be posted on November 24th. Good luck!
See Vanessa's review for A LOT LIKE CHRISTMAS (EBR Review)