Review: A Lot Like Christmas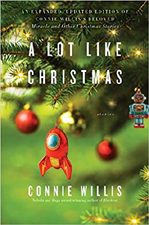 Amazon
I've always loved Connie Willis. She's the kind of writer who makes reading fun, whose stories engage her readers and really makes them think. Her stories are full of the whimsical, absurd, and humorous with endearing characters, clever prose, and witty dialogue. Connie's collection of Christmas-themed short stories was first published in 2000, but lucky us, this year we get an updated and expanded edition in A LOT LIKE CHRISTMAS. Connie writes Christmas with heart and delight, hope and joy, but still with her signature twisty elements that take you where you don't expect–and to a better story. I love The Washington Post's quote from the flyer insert the publisher included: "A novelist who can plot like Agatha Christie and whose books possess a bounce and stylishness…" What better way to read about Christmas than with "bounce and stylishness" because that implies a joy for the process of telling a story.
All of the short stories are great because she's not afraid to mix faith and science fiction, allowing religion center stage without forcing it on readers. Here are some of my favorites from the collection.

"Miracle" – A young woman's sister accidentally summons a spirit of Christmas Present to grant Lauren her heart's desire–the problem is she only thinks she knows what her heart's desire is and is more cranky about the spirit's arrival than grateful. Naturally she wants the handsome guy at work to notice her and ask her out, but Christmas Present complicates things by his very presence, so he's actually thwarting her heart's desire… or is he? At times sweet, goofy, punny, with Christmas movie riffs, if you only read one story from this book, this is the one.
"Inn" – Darling story that questions what one would do if Mary and Joseph showed up on your doorstep. Sharon is helping with the final preparations for the Christmas pageant the next day, but between arranging things with the Reverend, herding children, and setting up lighting, a couple knocks at the church door to reveal a young homeless-looking couple, with the woman hugely pregnant with questionable footwear in the winter snow. The Reverend doesn't like homeless in the building (the last guy peed on the sanctuary floor), but Sharon's heart is pricked and must shuffle the (non-English speaking) couple from room to room to avoid discovery. And in the process realizes who it was she really found on the doorstep.
"All Seated on the Ground" – Aliens and Christmas music. That should be enough to make you want to read it. It's hilarious.
Connie Willis' A LOT LIKE CHRISTMAS is a collection of imaginitive holiday-themed stories that aren't afraid to mix religion and science fiction.
"deck.halls@boughs/holly" – Stressed holiday decorator Linny's newest client doesn't know what she wants–other than for Linny to meet her single nephew. Linny already has a boyfriend and doesn't have time to deal with clients who can't make decisions. At times hectic, frustrating, and silly, Connie outdoes herself in looking at commercialism then twisting it into what Christmas really means.
"Just Like the Ones We Used to Know" – It's going to be a white Christmas…everywhere. All of the sudden, without warning (seriously, not on the weather forecasts), on Christmas Eve, snow begins to fall in record numbers and in places it rarely (if ever) snowed. Climate scientist Nathan is scrambling to find out why and is hesitant to label this storm after his pet theory he calls a 'discontinuity' where changes in climate would cause an unexpected event. This is sure unexpected, but there's more to this storm than meets the eye.
If you're looking for something beyond the sappy Christmas stories usually on sale this time of year, but you want to get into the holiday spirit, then A LOT LIKE CHRISTMAS is for you. I promise you'll have fun reading.
Recommended Age:

12+

Language:

None that I remember

Violence:

Silly peril

Sex:

None (although there's plenty of romance :)
***We have an extra copy, so don't forget to enter our giveaway HERE.