Review: Fallen Stone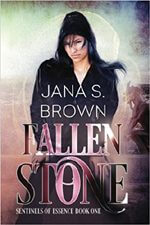 Amazon
Once upon a time Misery was a holy warrior who came between humanity and evil. But eight years ago she left the Sentinels and since then has been using her earth magic to do odd jobs to pay the bills and stay one step ahead of her old boss. She currently finds herself in Denver and is finally starting to feel like life could be normal again, even if her roommate is eccentric. Finally, Misery thinks she might get ahead with a lucrative job for the Chimera Lord of Denver–and it may take every friend, resource, and bit of luck she has left to pull it off.
But something is rotten in the city of Denver when she discovers that lesser fae are going missing, and instead of skipping town when a Sentinel hunter tracks her down, she decides that sticking around is the only option. She just hopes pursuing the kidnappers won't get her killed… again.

In full disclosure, y'all need to know that I helped Jana workshop this book when it was in its infancy many, many moon ago. I enjoyed this book then, and since she's polished it up, I enjoy it even more now. In FALLEN STONE, Jana S. Brown has created an interesting world populated with magic-users, fae, supernatural creatures, and plenty of good and scary characters.
Told from Misery's PoV, the book begins with showing us her skills at getting into places she's not wanted. Since she doesn't have ID, she has to take the kinds of jobs where no one asks who she is and where she's from, and sometimes that means being a thief–and she happens to be good at it. Part of the reason why she stays in the shadows is because the rest of the world thinks she's dead; another reason is so that certain people from her past don't find her. Misery is easy to like, we've all found ourselves on that last paycheck, or wondering where we stand with our friends, or working for that crazy boss. She does what she can and tries really hard to do the right thing–but even the nicest people find their breaking point, and Misery is done running.
FALLEN STONE: Once upon a time Misery was a holy warrior who came between humanity and evil--and she's been hunted ever since she left the Sentinels.
Set in present-day Denver, the story takes us around town, to high-rise buildings, a college campus, a rather famous library (re-imagined), baseball arenas, and underground bunkers. There are chimera, fae, gnomes, trolls. There's magical items made by Tinkers. There are half-breed hellhounds. But it's the magic that is the most interesting in the form of Essence, usually based on an element, such as earth in Misery's case. Power is derived from that element, and dictates what kind of magic can be performed. The author takes this concept and runs with it, showing us how it affects Misery's line of work, how she uses her magic, and how she fights with it if necessary. It's easy to see so much potential with this concept, and there's still many questions left by the end of the story, but readers will get enough to be satisfied. For now.
The characters are varied, from the mysterious Misery, to her bubbly roommate Jules, the love-interest Evan, and the goofy gnome named Red. The book is short and since it's from Misery's PoV we don't get very deep with our secondary characters, but they're likable and well drawn. And while we get to know Misery and the good guys reasonably well, the pitfall of a single PoV is that we don't get to know the bad guys, and it's hard for them to be much more than what Misery takes them to be. This makes the ending not have the punch it could have had, because we don't always understand their behavior.
The pacing never lags, and FALLEN STONE carries us along Misery's story as she deals with the fallout of her choices and makes the hard decisions. But despite all these troubles, Misery discovers that even though she's had to live a lonely life for the past eight years, maybe it's time to trust in her new friends to help her when she needs it most.
Recommended Age:

14+

Language:

Less than a handful of the milder stuff

Violence:

A few intense fight scenes

Sex:

Innuendo
# 1: Fallen Stone

—

This Review

—Amazon