Book Series ::
Sentinels of Essence
Sentinels of Essence — #1
Fallen Stone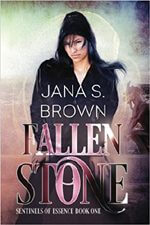 Once upon a time Misery was a holy warrior who came between humanity and evil. But eight years ago she left the Sentinels and since then has been using her earth magic to do odd jobs to pay the bills and stay one step ahead of her old boss. She currently finds herself in Denver and is finally starting to feel like life could be normal again, even if her roommate is eccentric. Finally, Misery thinks she might get ahead with a lucrative job for the Chimera Lord of Denver–and it may take every friend, resource, and bit of luck she has left to pull it off.
But something is rotten in the city of Denver when she discovers that lesser fae are going missing, and instead of skipping town when a Sentinel hunter tracks her down, she decides that sticking around is the only option. She just hopes pursuing the kidnappers won't get her killed… again.
Read the rest of this review »