Review: Legend Has It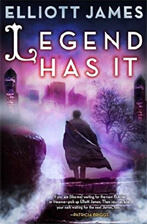 Amazon
From the back cover: "Someone, somewhere, is reading a magic book that is reading them right back. The line between fantasy and reality is breaking down, and real life is becoming a fairy tale: bored office workers are turning, quite literally, into zombies, bullies into black knights, and squatters beneath bridges into trolls. John Charming and his motley band of monster hunters are racing to find the real villain of this story, following the yellow brick road through a not-so-wonderful wonderland. And if they can't find Reader X before the mysterious grimoire is closed, there won't be a happily ever after again."

LEGEND HAS IT is book five in the Pax Arcana series by Elliot James. And while it would be easier to understand what's going on if you've read the previous books, the author does a good job bringing you up to speed early on and keeping you from getting lost during the story. For example,a in this book the prologue is an extended and imaginary scene where John is interviewed (tongue firmly in cheek) by Barbara Walters. I can't think of another author who does series-up-to-this-point explanations better than this guy. Or more hilariously.
The humor is necessary, otherwise the dire circumstances John often seems to find himself in would leave a reader unable to continue as a result of the incredible tension. As in my review for FEARLESS, it often seems like the quests have no chance of ever being successful, the odds are too great and it's difficult to see a solution. But would a Charming ever give up? No! And thank goodness he has a team he can trust and who trust him. There's his girlfriend and part-Valkyrie Sig, the priest Molly, tech support (and occasional sniper) Choo, as well as enough people in the paranormal community who owe him the favors he needs to get the job done. It's those very connections that makes John successful, as the Templar grand pubah Simon admits with extreme frustration. He wonders how an unrespectable guy like John can get so many people to trust him. But Simon's a jerk, so what does he know?
The Templars need John to hunt down Reader X, but Simon isn't telling the whole story, and that's a serious problem (no wonder the other paranormals don't trust the guy). John knows he should wash his hands of this entire debacle, but New York City and its citizens are in big trouble. While the story is told mainly from John's PoV, there are a few interludes from the viewpoint of the various denizens around the city: a guy whose hook-up is lured by a pied piper, the Templar Janine and her crew's efforts as part of the whole, an uncle's heroic efforts to save his young niece from giant snakes at a playground, and etc. At times these felt like side-tracks, but ultimately they all fit into a bigger picture that John must work through and unravel.
The best parts of LEGEND HAS IT are John's irreverent wit, well-plotted story, clever characters, exciting battles, great worldbuilding... nearly everything
Along for the ride is new-girl and dhampir (a vampire turning that gets botched in process) Kasia, a bad flash from Sig's past, and assigned by Simon to John's group to keep an eye on them and help out where necessary. Unfortunately, she may be there to kill John since John killed her ex-lover, who also happened to be Sig's ex-lover….ug, what a mess. Can John convince her that once the job is done, that he isn't worth trying to kill?
As always the best part of the book is John's irreverent wit. Include that with an interesting and well-plotted story, clever characters, exciting battles, and excellent worldbuilding, all of which made it a hard book to put down, even with its 400+ pages, longer than most Urban Fantasy novels. I especially enjoyed John and Sig's relationship, how it's evolved, and how they relate to each other. It helps that John has been around the block and that despite his foibles, he's gotten pretty good at reading his lady's moods–and why. I keep reminding myself I need to go back and find the first two books and read them (I haven't yet); my only excuse is that my to-read pile for EBR is currently falling over it's so long. Hopefully the pile has more books as fun to read as this one.
Recommended Age:

16+

Language:

A fair bit, our hero can get salty at times

Violence:

John Charming is a magnet for violence, and the fight scenes are pretty intense

Sex:

Lots and lots of innuendo/references, sometimes crass
And a bunch of short stories at the author's website – Titles by Elliott James (they take you to Amazon, but this list is helpfully in order)