Giveaway: The Motion of Puppets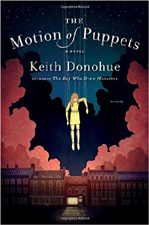 Updated: THIS GIVEAWAY IS CLOSED. Congrats to our winners, Rod from Omaha, Ray from Vancouver, and Jennifer from Dalton. Your books will be on the way soon!
The publisher is offering three THE MOTION OF PUPPETS by Kieth Donohue hardcovers to our awesome readers to give away! This means multiple winners, people! How can you lose? To enter this giveaway:
1. Email us at elitistbookreviews@gmail.com
2. Include the following on the subject line: PUPPETS GIVEAWAY
3. In the body of the email include your name and mailing address. This giveaway is only available to U.S. addresses.
Giveaway rules can be found here. Entries will be accepted until midnight of October 27th and the winners will be posted on the 28th. Good luck!
And don't forget to check out Vanessa's review for THE MOTION OF PUPPETS (EBR Review).