Review: The Lemoncholy Life of Annie Aster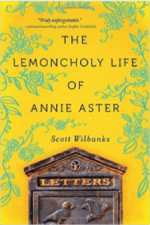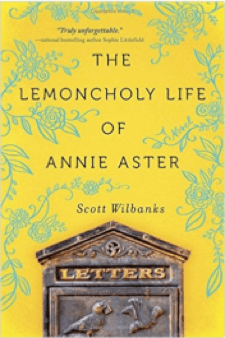 Amazon
I like whimsy. I loved THE SLOW REGARD OF SILENT THINGS (EBR Review) by Rothfuss and I "heart" almost everything by K.J. Parker (even though he is not a she) and, of course, Mr. Terry Pratchett in small, infrequent doses, so my initial survey of THE LEMONCHOLY LIFE OF ANNIE ASTER seemed promising. Cover art beautiful. Author's back-story intriguing… Dive in!
Oh no, the first few chapters read like whimsy for the sake of whimsy and I lost interest. The strong characters and promise of a good story brought me back eventually, though, and I'm glad for it. LEMONCHOLY is a very sweet, sometimes sad, fast-paced and ultimately uplifting tale. Yeah, it gets better. Much better.

Annabelle Astor, a lovely, fragile orphan living alone and quite well, is quirky, unusual, and a borderline agoraphobic. Her age is difficult to ascertain because she won't say more than "twenty-something," with an air of offense. She seems from another time in the way she dresses and in her many peculiarities. She reads Jane Austen, collects antiques, especially vintage clothing, and mostly keeps to herself. She misses her adoptive family, all deceased or gone from her life, and her loneliness is a "challenge for Annie." She lives in one of those garishly painted Victorian Sticks, her childhood home, in San Francisco.
She is ill, but will not talk about it, not even with her one and only friend, Christian. He is just as much the misfit as Annabelle, and just as appealing a character, and beginning to suspect that Annabelle is hiding the true nature and severity of her illness. I was immediately on their side against the world, and the world was about to get strange and exciting and dangerous, and more than a little puzzling. Once the action starts, it slow-burns steadily through all climaxes and twists and turns, never disappointing. A writer like Scott Wilbanks (who was once a U.S. gymnastics champion on the vault!) tends to let the story take him where it will, so there is a sense of meandering at times, but not to the point of frustration. At least not for me.
The first chapters read like whimsy for whimsy's sake, but won me over. LEMONCHOLY is a very sweet, sometimes sad, fast-paced and ultimately uplifting tale.
Christian, arriving at Annie's for their habitual Wednesday tea, finds her sitting stunned in her solarium clutching a letter written on parchment. He notices a new, strange door leading to the garden. She says, "I have a riddle that needs answering, and I don't think I can do it on my own." With the help of friends and strangers they encounter along the way, Annie and Christian set out to solve the mystery of what connects Annie across time, through that mysterious antique door, to the writer of the parchment, a feisty Victorian neighbor from the late nineteenth century. Then, there is the matter of a murder that has yet to happen… and somehow already did.
The action kicks in nicely here and then kicks some more, and then goes careening wildly in all directions: mystery and romance and magic shows and time travel, and I was all-in for the ride! Never quite out of control, the story has delightful twists and side journeys that are all relevant in the end. Thankfully. There could have been more care in the details of language and cultural differences between now and 1895, but I ignored those and simply enjoyed the story.
So, Pacing: Mostly excellent. Characterization: Excellent.  Tone: Intelligent and lyrical. Really lovely. Writing Style: Gardener, as opposed to architect, or as Scott calls himself, a "pantser" (seat-of-the) rather than a "plotter." This sometimes affected the flow, and not in a good way, but he always got back on track in time for interesting stuff. Mood: Upbeat, with impending disaster around every corner. The sense of peril was good, believable. Writing quality: More very-good than great, but with frequent moments of sparkling prose.
Recommended Age:

16+

Language:

In polite Victorian company? I think not. Well, maybe one little word

Violence:

Very violent in one extended scene

Sex:

A near-rape; mostly-chaste but frothy M/F and  M/M romances