Review: Wings of Sorrow and Bone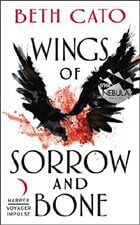 Rivka loves machines, but she's a girl in a man's world. She's moved to the city to be with her grandmother, whose social circle involves the rich and famous. During a social event, Rivka makes a new friend, Tatiana, and as mischievous girls are wont to do, they find themselves somewhere they don't belong–in this case it's a basement room. It's not any basement room, however. Owner of said basement, Mr. Cody, is financing the creation of a chimera from mechanical parts and pieces of recently living gremlins.

The chimera is to slated fight in the arena, but to Rivka even worse than its gladiator destiny is the incredible cruelty necessary to create the beast in the first place. She has a co-conspirator in Tatiana, who can be suspicious and one-minded, but Rivka is able to win her over to the cause of fighting animal cruelty. But she's just a girl, what can she possibly do against a man so powerful as Mr. Cody?
WINGS OF SORROW AND BONE is a novella from the same world and people as CLOCKWORK DAGGER (Amazon), working as a side story to the main series. It's a self-contained novella that you can read without having read the other CLOCKWORK stories. Rivka and Tatiana are well-realized girls who find themselves in a scary situation that demands their attention. It might be harder for more sensitive kids to read because the subject matter of animal cruelty gets specific about dismemberment and the pain animals feel.
The story is short and moves quickly. The prose isn't perfectly fluid, but it works fine for the story. There isn't enough time for extensive world building, but that's the kind of thing left for the main series. Eventually the girls arrive at a clever solution to their problems and will teach kids that sometimes the answer isn't always where you expect it to be.
Recommended Age:

13+

Language:

None

Violence:

References to surgeries on helpless creatures

Sex:

None
Wings of Sorrow and Bone

—

This Review

—Amazon