Review: The Spider's War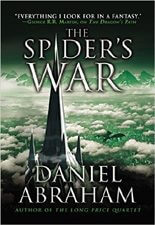 Amazon
Back when I first heard that Daniel Abraham had signed a contract to do these books, I was uber excited. I'd absolutely loved his Long Price Quartet and had been anticipating what he would do next. The Dagger and The Coin series has been one of my favorite series to read these last few years, and now that it's all over… of course I'm looking frantically to find out what this guy is going to do next. As with most series-ending books, I had a tough time reading this one. I wanted it all now, now, now, but at the same time I found myself avoiding it. Letting it sit on the shelf, when I normally would have been busily reading away. This was the end, and I was going to miss this world, these characters, their stories. But, as with death and taxes, all of Mr. Abraham's stories (at least thus far) have all had a definitive end. And this one was no different.

THE SPIDER'S WAR (Amazon) is the final book in The Dagger and the Coin series. A series that explored the themes of how wars and battles are fought through the use of these two tools. Or, you could say, weapons. Throughout the series we found those that were proficient with the dagger, and others whose skill laid with the coin. And because of that, this series has been unique and new. For seldom what we find is drawn only with the dagger.
The story picks up quickly from the ending of The Widow's House, with the Antean army falling apart because Geder and the spider priests have stretched it so thin with their promises of success, but Geder has begun to lose his drive for this war. He's feeling it stretch him and twist him such that he begins to believe that he has fallen physically ill and starts to search for a cure. Meanwhile, his enemies, essentially the entire rest of the cast of characters, have finally found their way together and have begun the final push to destroy everything the spider priests have been trying to accomplish. Cithrin is using her war gold to finance the battles they're waging against Geder's forces. Clara returns to her son's army with the hopes of turning them from Geder's priests. And then Marcus Wester. He's there to do the job that needs doing. No matter the cost, no matter the odds.
This was book was as much a microcosm of my feelings for the series as a whole as anything else. Abraham's characters are just so true to who they are and what they believe, that you can't help but think of them as reality. Looking back on the series as a whole from this point, I think I have to admit that my favorite character was Clara Kalliam, which kind of surprises me. She was an interesting secondary character in the first book, until the point at which she slid into a primary position and then I found that I liked her even more. But the journey she takes, the choices she makes, the torture she endures, as her family is utterly destroyed and torn into pieces by this war that has beset her country has endeared her to me like none of the other characters.
Don't get me wrong. I loved Marcus Wester. His history. His pain. His drive. And the interaction between him and Yardem Hane and Master Kit was just priceless. And Cithrin, the driving force for the Coin side of this war, was interesting, if not wholly engaging for me. Her penchant to fall into herself, and drink incessantly for days occasionally annoyed. I suppose this gave her opportunity to use her mind and come up with so many of the brilliant but risky plans she devised. And then Geder. He was a bit of an odd duck for the most part. It was interesting though to see what made him tick, and how his enemies were finally able to use that to their benefit, and the benefit of all of people of this world. Still, it was Clara that was my favorite.
What was yours? And why? It's always been interesting to me the pieces that make characters engaging and worthwhile to various readers. It goes toward Mr. Abraham's skill as a writer that he has drawn these so well, and so differently. Just really impressive, regardless of whom any of us might think was "the best one" of the bunch.
The end of The Dagger and The Coin comes, and it is not clear who will survive the fallout of those that rule and those that wish to survive.
The ending? The ending. I can't say that I was as impressed with the ending of this series as I was with the Long Price Quartet, but that's a pretty big bar to be holding anything to, in my opinion. It's not all wrapped up with a neat little bow at the end, and I liked that. The characters still have their lives and their choices driving them. It might have been nice to see a little more lasting impact to the world, for what they've come through. There is some. Impact from the dagger, and also from the coin. Impact from the darker side of the beast we call humanity. Perhaps I'm playing it down a bit, and there really was more. Perhaps I just didn't look at it closely enough until just now. Regardless, it was an ending for the book, and also the series, that I was satisfied with. As I said above, this has been one of my favorite series of the past several years. Very little is going to change that at this point.
This is a series, and quite frankly an author, that fantasy readers should just plain READ. He's not something that people should miss. One of the best speculative fiction authors that we have out there right now, without question, and I expect much more good to come from him in the coming years.
Recommended Age:

15+

Language:

Strong but infrequent

Violence:

The ending has quite a bit of death in it, some detailed and personal

Sex:

No time for it, really