Review: The Widow's House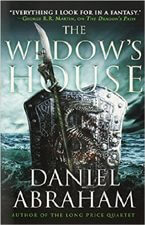 Amazon
I vividly remember reading a review of THE DRAGON'S PATH when it was first released, and the reviewer was complaining about the lackluster magic system that "sounded a whole lot like 'those aren't the droids you're looking for'". At the time, I wanted to berate him for suggesting that a Daniel Abraham book would contain a magic system as benign as something like that. Although, given the facts available at the time, I wouldn't have been able to provide him with anything definitive that said his opinion was wrong. It was only that there absolutely WAS more to the magic system, and I KNEW it. After reading this penultimate volume of the series, I could now provide him with some great examples of why his opinion isn't true. In much the same way that there were no dragons in that first volume and now we've finally got one. Yes, there is one, and if that's a spoiler to anyone at this point, then you're even further behind in finding this brilliant series than I am in finally writing this review. Although, my review is just in time for the lead up to the final novel in the series. So, lemme prattle on for a bit and hopefully whet your whistle for that one, if I may.

THE WIDOW'S HOUSE (Amazon) is the winding-up book for the series and lands fully in the realm of, "It's always darkest before the dawn". I read this one when it was first released, and read it at typical speed: breakneck. By the end, I wasn't sure if I'd liked it quite as much as previous entries, and that state of not knowing kind of put me into an eternal spiral of not writing this review. I read the book again in preparation for finally putting this review together, and this time I read it with more earnestness. It took longer, but I found that I liked it immensely more. I think this is mainly because of the type of book that it is.
You see, it's not really a ringer, with lots of bang up action and amazing interaction. Instead, it's a view into the lives of the four characters as they ride the ever-tightening spiral into the core of the spider's war. To some extent, each of the POV characters is fighting the depression of seeing the world slowly implode and all of their plans start to fall apart at the seams.
Inys, the last of the dragons, now awoken from his sleep of millennia, is alone in a world that is completely unfamiliar to him. All of his kin and those he knows are long dead and gone. The human slaves are not so deferential as they should be, and the evil spider priests he once tried to destroy are still somehow roaming the world. His prologue gives a glimpse of this weight upon his mind, and we see it's effects in his demeanor throughout the rest of the book.
Cithrin has run from her failed attempt to save the Timzinae at Suddappal, betraying Geder at the end. She returns home to Port Olivia, but knows that there is only so much time before her "sins" follow her back there, and there is nothing she can do to stop it from happening.
Geder is lost without Cithrin, and pines over her incessantly. No matter his efforts the world seems to be fighting back against his plans of unifying humanity in peace with the help of the spider priests.
Clara has been left a shell of her former self. Fighting Geder's efforts from the shadows, she's seen one of her sons declared a traitor, another set at the forefront of Geder's army as their general, and the third inducted into the ranks of the spider priests and turned into a thing that is no longer the least bit familiar.
This whole sense of foreboding and doom is built extremely well over the course of the book. This is only intensified by the illumination that Inys gives to the world about the origins, powers, and intentions of the spider priests. As this comes, new meaning is put into the things the brown-robed priests say and how they say them. Their religion is spreading quickly, reaching far and wide with the spider goddess's favor, and now we know just how bad a thing that is.
THE WIDOW'S HOUSE: I hope you've chosen to take this ride with me, 'cause it's a great one. Soldiers and a Dragon and loads of impending doom.
I can't say enough about Abraham's character development. It's amazingly on-point as always and is one of the main reasons I've come to love his stuff so much. At the forefront for me this time around was Clara. Her role in the war dives deep into the trenches. I especially liked her sections and what she was able to accomplish. She is every bit the character that fights with the powers that she has. No fancy get-out-of-jail-free magic has been put into her. She's neither weak nor ineffectual. She's strong, and driven, and will do anything to see this war won.
As well with Cithrin, although the weight of depression takes a bit more of a toll on her. She spends a goodly amount of time drunken in this book, worrying at what can be done to stop Geder and his seemingly invincible priests. Still, she knows where her strength lies and fights with her strengths.
And Marcus was just a solid. That guy knows how to get things done, and is there to boost up Cithrin when she needs it. His interactions with Kit and Yardem Hane were hilarious. Especially those toward the end of the book where they return to a place from their bloody history.
Having read this book, and finally reaching the starting point for the last novel in the series, I am so ready to see how it will all play out. Abraham has done his due diligence in providing us with some amazing material. The Dagger and the Coin: two tools in war, each fought on separate battlegrounds, and yet both so vitally important to the battle that has come to their doorstep.
I hope you've chosen to take this ride with me, cause it's a great one.
Recommended Age:

15+

Language:

Strong but infrequent

Violence:

A few battle scenes get somewhat gory

Sex:

Some after-scene time and a little moderate description