Review: The Paper Menagerie and Other Stories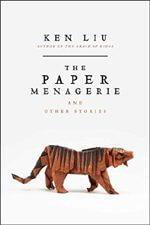 Amazon
Before Ken Liu wrote novels like THE GRACE OF KINGS (EBR Review), he wrote short stories, several of which won notable awards. THE PAPER MENAGERIE AND OTHER STORIES is a compilation of not only his award-winning shorts, but also some of his own favorites, including one not previously published.
They are stories filled with emotion, creativity, and beautiful prose. And all will require a degree of contemplation–these are not simple stories, as they are filled with multiple layers of character, situation, and setting. Each is worth thinking about what Liu is trying to say. It's these very qualities that makes this anthology worth reading.

"The Bookmaking Habits of Select Species" is a short speculative description of alien methods of sharing information. I love his imagination, it's truly creative. Not only that, but the writing style in this short is almost like reading poetry.
"State Change" is about Rina, whose soul is an ice cube. Everyone's soul is different, from Cicero's stone, to her friend Amy's pack of cigarettes, and you must always have your soul close by. As the result of a need to keep her soul frozen, Rina's life has been limited to what she's willing to risk carting around an ice cube. Liu uses this unique take on what a soul really is to make us look closer at ourselves and our own preconceived limitations.
In "The Perfect Match"  Tilly is an AI–like Siri but on steroids. "She" acts as a personal assistant, using complex algorithms to use the data collected on people in order to more accurately predict what they'll want…or is it to direct them on the path Tilly wants them to go? I've read stories like this before, so at first it felt predictable, but in ends not completely comfortably. Definitely thought-provoking.
In "Good Hunting" Liang is the son of a ghost hunter and taught his father's trade. At least until iron, trains, and steam make their way across China, which causes magic's decline. Liang makes friends with a huiljing girl (shapeshifter) whose ability is lost as the magic in the land makes way for technology. A story about change: not only how to deal with change, but also how to make it work for you.
"The Literomancer" is about young Lilly whose father was transferred from Texas to Taiwan for work. She has trouble adjusting to a new school and country, but fortunately meets a kind man and his grandson. The man teaches calligraphy, but calls himself a literomancer, as he can see the magic in words. But Taiwan's neighbor China is in the throes of its communist revolution and even though Lilly doesn't understand what's going on around her, she's still affected. A sad tale that reminds us the solutions to our problems aren't always in the most obvious places.
"Simulacrum" is an imaginative supposition of the invention of a machine that can capture and project in 3-D–and the simulacrum it creates can interact with those around it. But the inventor, Paul, doesn't see the harm the simulacrum do, and as a result estranges his own daughter. Strange story about what is real and what isn't, and how we can confuse the two.
"The Regular" is about Ruth, private detective, who is hired to solve the murder of a prostitute. At first it seems your regular crime story, complete with a PoV of the murderer. Until we learn about Regulators and the mechanical implants used for physical enhancements. As a former police officer, Ruth was outfitted with a Regulator, so that she wouldn't be blinded by adrenaline, anger, or fear. But using it too much has stunted her ability to understand her own emotions. Fascinating story of the lengths people will go to in order to take away grief.
"The Paper Menagerie" is a bittersweet story about a young boy whose mother's origami comes to life for him to play with. It's a story of origins, acceptance, and love.
"An Advance Readers Picture Book of Comparative Cognition" works much the same as "The Bookmaking Habits of Select Species" except that it talks about how other species think and communicate. At the same time is the story of a woman who always knew she would travel in space and eagerly awaits the day, even if it means leaving behind her family. They are tidbits about the struggle against entropy in a universe where no one may ever know we were here before the end of humanity.
"The Waves" is a story of creation and human progression. The main character Maggie tells children about different cultures' origin stories. She is on a ship to the stars to colonize another world as Earth deteriorates behind them. But traveling near the speed of light they learn about man's progression in the meantime, and it's more amazing than they had dreamed of. A story of the perseverance of the human spirit.
This is a compilation of some of Ken Liu's award-winning shorts, but also some of his own favorites, including one not previously published.
"Mono No Aware" takes place post-Earth on a ship carrying the last humans to a new world. When a hole is discovered in the solar sail, Hiroto must make a difficult decision. It's a contemplative story about humanity's weaknesses, but also the unexpected simplicity of what it takes to be a hero.
"All the Flavors" takes place in gold rush Idaho told mostly from the point of view of child Lily who becomes friends with the Chinamen who rent their lodgings from her father. It's easy to see Lily's fascination with the foreigners, with their kindness despite being surrounded by those who don't trust them. This story feels more like a historical fiction with the retelling of myths than true SF. The ending also feels abrupt, but at the same time makes us think about possible outcomes for good or ill.
"A Brief History of the Trans-Pacific Tunnel" is an alternate history about a tunnel created between Asia and the U.S. under the Pacific after the first World War. It's a story about an idea, but also about the consequences of ideas when the human imagination doesn't understand the sacrifices necessary for such large projects–and how it affects the individual.
"The Litigation Master and the Monkey King" is the story of litigation master Tian who fancies himself a devotee of the Monkey King from Chinese legend–and believes that the Monkey King speaks to him. Tian uses the corrupt legal system in his favor, charging the rich while helping the poor for free. One such widow returns to ask his help in protecting an outlaw on the run from the Emperor's goons–a trial that may turn out to be the hardest one yet. Not as SF as others, like "All the Flavors" this story feels more like historical fiction. But I enjoyed Tian the best of all the characters in this anthology, and how it explores Liu's frequent themes of what a hero really is.
"The Man Who Ended History: A Documentary" is about physicist Evan and his wife Akemi who have discovered a way to look into the past. The main focus is Unit 731, a Japanese facility on the Chinese mainland during World War II where they tortured and experimented on prisoners for the sake of science. But when Japan surrendered at the end of the war to the U.S., those who ran the facility received immunity as a result of handing over their findings. More philosophical than anything (the discussion goes on at length), this story wonders at the results of learning not only about the past, but how learning the truth about the past can affect us today.
Recommended Age:

Most of them can be read by 13+, apart from the ones with sex and graphic torture

Language:

Most stories don't, other than

Violence:

Varies;

Sex: