Review: Doctor Sleep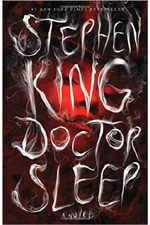 Amazon
Stephen King is one of those authors I continue to pick up despite the fact that I'm frequently frustrated by the way his books end. There's just too much good he does right to completely sign off and avoid reading his stuff. This is most especially true when it comes to the way his books begin. This book was one that I was really intrigued with and considerably interested in reading because it's a sequel to THE SHINING (Amazon), which is probably one of the most preeminent ghost stories ever written. A really creepy book. Was hoping for much the same from its sequel.

DOCTOR SLEEP (Amazon) starts quite quickly after the closing events of its predecessor. Little Danny Torrance and his mother are living alone after the death of Danny's father, which I was happy to see. This opening gambit was exactly what I was hoping it might be, but it was also exactly what I expected to see because Stephen King's stories usually start out really good.
Simply put, the story begins with Danny waking up late one night, far from the dangers and cold ashes of the Overlook Hotel, to find the woman from Room 217 sitting on the toilet in his bathroom.
Yeesh. I'll tell you, that instantly got me engaged and ramped up the creepy to eleven.
The story is mostly told from the perspective of three main characters. Danny Torrance, of course, begins the story as a young boy, and after the relatively short first section of the book continues as a much older man. Like his father before him, he's fought the good fight against alcoholism. Failing at times, succeeding at others. One failure in particular becomes very important to his mental stability and many of the choices he makes as the story progresses. Most of his time is spent in a new career as a hospice worker, helping those living there in the transition to death. From the other side of the agonist scale rises Rose the Hat, reigning leader of the True Knot, a group of traveling vagabonds that survives by taking from normal rubes the life-sustaining "steam" that inhabits each of them. They've been around long enough to have accumulated a large amount of wealth, and mostly spend their time traveling to locations where a large amount of steam can be harvested from the dying without becoming obvious to the greater masses around them. This is all well and good until Rose the Hat becomes psychically aware of a young girl named Abra Stone. She is a person like Dick Halloran and Danny and his father. She has "The Shining." But those who are strong in the shine are also very strong with steam, and Rose the Hat determines to find young Abra and make her into a captive food source on which the entire True Knot might feasibly survive forever.
If you're a fan of King, definitely pick up DOCTOR SLEEP. If not, you could do worse when looking for a new horror read. Not as good as its predecessor.
This was one of the better novels that I've read from Stephen King in the last handful of years. His characterization, as ever, is on point. Overall, the story is tighter, leaner, and more directed than many of his recent novels, which made it quite a bit shorter than many of those novels as well. The multi-faceted story weaves a number of different people and ideas well, and brings them to a conclusion in a location that is not only inevitable but absolutely necessary.
The problem with the story is that it's less a sequel to the story in THE SHINING and more a continuation of story of Danny Torrance, which isn't necessarily as interesting as the story in THE SHINING. The beginning, although rife with promise of terror and intensity, continues to a conclusion has those promises crumbling to ash much like the Overlook Hotel did. The bad guys, although creepy in a slightly-off-kilter-child-abductor kind of way, are very human, and that leaves them considerably less creepy than the idea of ghosts escaped from the Overlook Hotel. It was so much less than I wanted and had hoped for, and so I didn't enjoy it nearly as much as I would have otherwise. Any technical issues count toward my rating? Not really. Stephen King, yeah? It just ended with my impression of not liking it quite enough to Love It.
So, if you're a fan of King, definitely pick this one up. If not, you could do worse when looking for a new horror read. King is still one of the finest author for the masses in publication today, and as such he does so many things so very well in this one, making it worth the while.
Recommended Age:

18+

Language:

Typically strong, as Mr. King is wont to be

Violence:

Again, all the lights are blinking red here too

Sex:

Not very much, but there is some and it is tinged with violence