Giveaway: The Wheel of Time Companion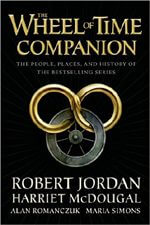 Update 11/24/15: Congratulations! The winner is Chris T from Minnesota. Your book will be on its way soon.
Today is my birthday and I'm feeling generous, so it's one of you who get the brand spanking new book that arrived recently. You've read the books, all fourteen of them. You've visited the discussion boards. Maybe you even decided which Ajah you'd belong to… One lucky winner will be sent a copy of the WHEEL OF TIME COMPANION (Amazon), an 815 page book full of maps, pictures, and details about the people, places, and history of the famous Wheel of Time series by Robert Jordan.
Lots of people had better enter because this book is so big it will require a box and extra postage.

To enter this giveaway:
1. Email us at elitistbookreviews@gmail.com
2. Include the following on the subject line: WoT Giveaway
3. In the body of the email include your name and mailing address. This giveaway is only available to U.S. addresses.
Giveaway rules can be found here. Entries will be accepted until midnight of November 23th and the winner will be posted on the 24th. Good luck!
Check out our reviews on his other stuff:
A MEMORY OF LIGHT: EBR Review
THE GATHERING STORM: EBR Review
TOWERS OF MIDNIGHT: EBR Review