Review: Towers of Midnight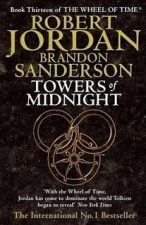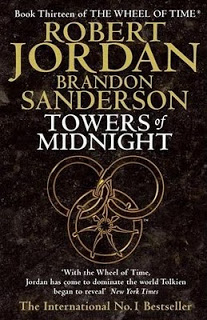 Amazon
Sometimes it is difficult to review a novel. In fact, this isn't even the original review we had written for TOWERS OF MIDNIGHT (Amazon). There are so many variables that come into play that we have to take an accounting of, that we wonder where we should even begin. ToM, obviously, is one of these types of novels. There is the matter of the book itself; the story, the characters and the progression in the novel have to be considered. But then so does the rest of the series in one as large as The Wheel of Time. And to be objective when you all know we like our fantasy in the non-Jordan fashion. Yeah. It's all sorts of difficult to put a review of this type of novel together in a way that makes sense to you lovely readers.

ToM has all the markings of a Wheel of Time novel. For us, that means that it is very frustrating, punctuated by points of awesomeness. Many of you that know us have come to realize that we aren't real fond of the WoT as a whole. We feel the first chunk of the series is OK, but we also feel that the latter half is mostly absurd.
When Brandon Sanderson stepped on-board in THE GATHERING STORM, we noticed a distinct change in the narration style of that novel within the scope of the series. ToM follows that voice, and in fact is much more "Brandon" than "Jordan". It is mostly free of the garrulous exposition, and repetitive descriptions that plagued the other bloated novels of the series. Don't get us wrong, we love good description, and require it to give our thumbs up to a book, but not at the expense of plot progress. ToM doesn't have this issue. It doesn't have time for it.
Enough about our history on the WoT series. What about the novel itself? Here is essentially how our text messages to each other went while reading:
Nick: Steve, I've got good news and bad news.
Steve: Bad news first.
N: ToM is about Perrin.
S: You're not funny. What's the real bad news.
N: ToM is about Perrin…. and Elayne.
S: I'm taking your birthday present back to the store.
N: Good news is that Jamiroquai has a new album out in the UK.
S: … I know about Jamiroquai… I told YOU that in the first place. What does that have to do with ToM?
N: Nothing. I'm just reminding you, so that there was some good news. Remember, ToM is about Perrin.
S: Crap.
***later***
S: Oh hey, look. Our cameos.
N: I'm a drunk!
S: Yeah, so is your cameo.
N: Well yours is dead.
***later***
N: How far are you now?
S: zzzzzzzz… wha? huh? Sorry, Perrin was lamenting how he is a poor leader again. I must have fallen asleep.
***later***
N: Isn't Rand great in this book?
S: This is the guy we've been waiting for for, like, 15 years. Awesometastic.
N: Too bad he shows up in the book about as much as Lindsey Lohan shows up in the news sober.
***later***
S: The White Tower storyline… Seriously? WTF?
N: Yeah. I just dyed my hair black, put on skinny jeans, and started wearing trendy bracelets and band t-shirts.
N: … you there?
S: Sorry, my wife had to talk me out of burning my Jordan collection. That emo idea sounds pretty good though.
We realize we said it before but we reiterate, ToM = periods of extreme frustration interspersed with moments of complete greatness. This isn't a dig on this book in particular or on Brandon's writing of it. That's the Jordan way, after all, and we have seen it time and time again in his books. And it leads us into our next points and the multi-faceted reason it can be so frustrating.
Number one. We have seen all of this before. Perrin whines about being a leader and a lord? Check. Perrin worries about losing himself to the wolves? Check. Elayne acts hypocritical and spoiled? Check. People don't communicate, leading to unnecessary problems and forced conflict? Check. These are all things that have been part of the character arcs since extremely early on.
To the point of repetition. Now we have to see Perrin really learning the wolf dream? Nifty, except he progresses the same way as when Egwene learned to be a dreamer. And when she trained everyone else, and we had to watch. Again, this should have been done novels ago. Oh wait, but we get to see Nyneave's trial to become Aes Sedai. And thematically it is the same as all the other tests we have seen. Remember when we had to watch all the Accepted tests that were extremely repetitive? Yeah. Same thing.
Number two. So much of the book is filled with all the mundane (Perrin/Elayne), and not enough of the amazing(Taim/Logain/Rand/Min). For example. We get loads, and loads, of Perrin chatting with Faile, usually about how much he sucks. Despite all the blatant evidence to the contrary, when everything he tries ends in the most spectacular success. Though we are inclined to agree with you Perrin. You haven't been cool, fun, or interesting to read since The Shadows Rising. Please go die at the Last Battle already. Take your annoying wife with you.
In addition to all the Perrin crap, we get so much Elayne nonsense that we both were tempted to keep an AED handy in case our heart stopped of stress while reading her sections. Elayne, Elayne, Elayne. You need to die. Now. Twice–it's possible in Rand-land. Much like Perrin, Brandon's Elayne's segments are actually spot-on as far as "voice". The problem is that the character's, as Jordan created them, are bad. They just suck as characters, and are impossible to like. In the full series, we can think of no character as hypocritical as Elayne. She is who she is, and we hate her. Quote: "We can't afford to be short-sighted right now." Right, Elayne. We can't. So how about you put on your big-girl panties and think about the last battle instead of selfishly seeing what you can take. Right now, Elayne is acting exactly like those idiots that go looting during riots and disasters. "I'm going to expand all my borders, and squish Perrin for being rebellious! I'll take more and more kingdoms! What? Tarmon-what-cha-callit has started?"
Number three. With all this mundane tom-foolery filling up the book, the pacing feels off. The REALLY important things, take about half of a chapter to resolve and come together so cleanly and easily that any climactic feel they could have had, was completely lost. This right here is the single greatest failing in ToM.
There are numerous plot threads resolved in ToM–more than a few,in fact–which was very refreshing. The problem is that they were either wrapped up in a very unsatisfying way, or they were largely irrelevant. In fact, one of the plot threads ends in one of the most blatant maid and butler scenes in recent SFF history. You'll know it when you see it, and it involves, of course, Perrin amidst a scene brimming with repetition. There is also a major event that rivals Winter's Heart in magnitude but it is handled in a paragraph or two, and with a shrug of shoulders. Nynaeve does something really cool, and it takes her absolutely no effort or time to figure it out. It was like pulling a rabbit out of a hat and yelling TA-DAH!
Everything is robbed of intensity when it all comes together so cleanly and seemingly without effort.
Let's talk about a few of the other characters that had lesser parts in the book.
Rand. This is the Rand that we have been waiting for. A character worth reading about. He has a full range of emotions that are used to great effect. Every time he shows up, he is utterly incredible. He owns up to his mistakes the way a general/leader/king/warrior/farmer/messiah should. How we wish that we could have had more of Rand, and less of everything else. With Rand, as it stands, this novel was redeemed by a large amount. Again though, why can't he just communicate? It would solve so many problems. His justification, now, is that there isn't time. But so much time would be saved if he would just take some of it to communicate, and talk.
Mat doesn't feel as "off" as the last novel. There are parts where he is funny again, and parts where he genuinely warms the heart. There are also a couple sections where he feels a tad forced. Maybe a knee-jerk reaction to TGS where he didn't seem like himself at all. But it was a major improvement and a very welcome addition to ToM. We were pleased with most of Mat's presence here. The problem is that his portion of the novel (and something that fans have been clamoring for, for years) is resolved so quickly and cleanly (well mostly) and we are left with more of Perrin sulking.
And, finally, Lan feels wrong. All wrong. He comes across as a petty whiner. Luckily he's hardly in the novel.
Speaking of hardly being in the novel. There are some extremely important things and people that should have been here, but were AWOL. Things that need more time than a final novel in a series. We can't really talk about what's not in the book without heavy spoilers, but when you finish the book we guarantee you will agree.
Ok… here comes something new for EBR.
***Spoiler Alert***
Yes, we are breaking our rule here. Reader's find out this information in the prologue, and it is obviously expected, and a huge gripe of ours. So here we go.
Graendal? Really? "To get to Rand, I'll go after Perrin! I'll bring the D.O. his head! It will RUIN Rand! HA!" Really? Hi Graendal. Welcome to the plot of The Wheel of Time. Look around you and maybe you'll see that this isn't a new idea. You must have watched Spider-Man 3 in your cave between books. The very fact that Graendal is even ABLE to say these things ruins some of the awesome from TGS. It's like ToM pulled an Alien 3 on us. Thankfully she is resolved also.
Again, a lot is resolved. A lot of answers are given. This is really what ToM has going for it. A very large chunk of plot threads are tied off. Yeah, lots of them feel extraneous, but there are a few big ones finished up. Yeah… a lot is tied off. Finally. You see, ToM is a checklist novel. It's taking care of all the stuff that has been stagnant for the past… uh… forever. If these last three novels are looked at as one full piece of work, ToM is the, usually, boring middle section of the novel. It just is. Now, that said it has more movement in it than we are used to from a WoT book. A LOT MORE. It moves at breakneck speed compared to many of the others, but the repetition and unimportance of so much of what is moving makes it much less awesome. It was good, but not awesome.
TOWERS OF MIDNIGHT has all the markings of a Wheel of Time novel. For us, that means that it is very frustrating, punctuated by points of awesomeness.
It's all housekeeping.
In THE TOWERS OF MIDNIGHT, Brandon Sanderson is tasked with cleaning up a huge number of loose ends that should have been taken care of forever ago. His no-nonsense narrative helps overcome this portion of the story that feels like a laundry list. Brandon is working with the deck that was given to him, and he is doing amazing. Are there problems in this novel? Heavens yes. Does it have some awesome stuff? Oh yeah. Battles are great as usual. Rand is amazing. The secondary characters are better than the main characters in many cases. It is a Wheel of Time novel. There is going to be lots of frustrations, and lots of different stuff that will appeal to a variety of fans.
We have spent a lot of time, more than usual, on the characters and our reactions to them. Perhaps the fact we have such a violent reaction to them is that Brandon is doing a great job of writing them. As usual B's writing is top-notch. He is our friend, but we definitely don't pander to him. There are things we wish he would do differently, but what he does, he does in an incredible fashion. In a time in the industry when the gritty, dark, and gray are ruling supreme, Brandon writes Black and White and fantasy that is reminiscent of the good old days, and it is good. We can't stress enough how much we liked most of how ToM was written (with the previous items mentioned excluded from the list). The "When" of the novel is cloudy sometimes, but it is mostly free of confusion in that regard. The PoV's, transitions, etc., are all crystal clear. Kudos B.
Did we like ToM? Yes. The more we reflected on the book though, we realized how so many important things that should have been on the checklist were left off, and how minor the checklist seemed afterward. We liked this book, but juuuuuuuuust barely.
Recommended Age:

There's no real age rec for WoT, so 10+?

Language:

Nope

Violence:

Yes. Action has always been handled pretty well in this series, and ToM is no exception.

Sex:

Nope