Review: Nightborn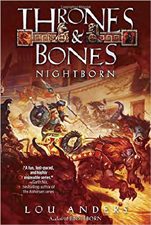 Amazon
Karn is a gamer; his favorite game is Thrones and Bones (after which the series is named). When his best friend Thianna–half giant, half human–is kidnapped, he's tasked by the dragon Orm to find her. Easier said than done, for he must travel far from his rural home to the city of Castlebriar, deal with duplicitous elves, and solve riddles. Thianna was on a quest to find a horn, much like the one they discovered in book one, FROSTBORN (Amazon)–these horns make it so the user can speak with and coerce magical beasts. And Orm isn't the only one who wants to find the second horn.
Desstra is a dark elf, training to be a member of the Underhanded, a group of elite fighters. When an important test goes awry, she's sent on a mission to prove she's worthy. Part of that mission involves tricking Karn into thinking she's something she isn't. Because if she can't get the horn before Karn does, then she will be outcast from the only home she's ever known–even if she does think dark elves aren't very nice.

Book 2 in the Thrones & Bones series by Lou Anders, NIGHTBORN builds on the story of the previous book. Karn and Thianna, despite their differences, are friends–a thing Desstra wishes for herself, but her new occupation makes such a thing impossible. They're likable characters with their own special set of skills as well as their own foibles. Our heroes must use their wits and work together in order to survive. They have to fight the dark elves, who desperately want the second magical horn, including the dastardly Tanthal, Desstra's team leader and last chance of graduating–he's easy to hate. Most kids reading this series should be able to relate to the main characters in one way or another because they each have their doubts and struggles, but at heart are good kids trying to do the right thing.
The setting isn't anything fancy, but it doesn't get in the way of the story. Being able to use flying mounts cuts down annoying journey narratives, without feeling too much like a contrivance for convenience's sake. The different races and locales, as well as the history give the story enough pizzazz to be interesting without being overwhelming. Especially amusing are the tidbits of history used by Karn to solve the puzzles, as well as the snarky talking beasts.
Karn is a gamer. When his best friend Thianna--half giant, half human--is kidnapped, he's tasked by the dragon Orm to find her in NIGHTBORN.
The story starts out a little slow in order to get readers up to speed in case they haven't read FROSTBORN or as a refresher if they have. This means if you haven't read the first book, it's easy to catch up without feeling lost. Then the story moves quickly as Karn figures out the puzzles, finds his friend, and tries to stop the dark elves before they find the second horn.
And proves that even goofy gamer boys can save the day.
Recommended Age:

8+

Language:

None

Violence:

Peril, sword fighting, and some vague deaths

Sex:

None