Review: All Those Vanished Engines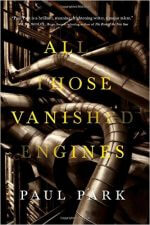 Amazon
There is a tale written by a chap you might have heard of before (Hans Christian Andersen) about an Emperor that is duped by a couple of swindlers into paying for clothes made out of cloth that is not there. It's called "The Emperor's New Clothes" (just in case 😉 ), and it's a wonderful tale that at its face can be viewed as being about not allowing yourself to be lied to and taken advantage of because you want something so badly, but has deeper meaning about not believing what everyone else does just because everyone else believes it. Once I'd written this review, I realized that a triggered remembrance of this old tale is exactly what I'd need in order to finish up. So let's get to it.

ALL THOSE VANISHED ENGINES by Paul Park (Amazon), is a relatively short novel that is a return to Science Fiction for the author after writing a four-part fantasy series, A Princess of Roumainia (Amazon), and a Forgotten Realms book. The last published Science Fiction novel from him seems to be CELESTIS (Amazon) in 1995, a whopping twenty years ago, and I wondered at how much the genre must have changed during those years. Would this story be up to snuff?
ENGINES is split into three distinct parts. In fact, I could find little to connect the three sections of the novel except for vague references to a Virginian Battle of the Crater and also to… smoking weed. In actuality, what this book read like is an odd conglomeration of free writing penned over the last ten years or so. One from each of his major creative periods during that time.
The first section reads like a chapter from his fantasy series, A Princess of Roumania (pub 2005-2008), that was dropped somewhere along the way (or may actually be included in the series somewhere–I haven't read any of them). Two girls, living in an alternate-history world after the American Civil War, run away from home and talk to one another while a battle rages near a local crater. Afterward, she finds out that the life she's been living isn't what she thought it was. There was little in the way of an ending to this section.
The second section is somewhat like a memoir of what it was like to be a writer in the midst of writing his Forgotten Realms novel, THE ROSE OF SARIFAL (Amazon — pub. 2012), while he visits several people in his life at the time, including his sister. And although, something about a secret weapons project from World War II is mentioned in passing, the bulk of this section revolves around his meandering conversations and the difficulties of life with his sister.
The third section, from what I can tell, is simply a portion of his previously published novella, "Ghosts Doing the Orange Dance" (pub. 2013). The portion of the novella included concerns the life of a young man that is looking into his family history and specifically why his father was courtmarshalled. This section was really the only one in which I found anything overtly speculative of note. A supposed alien invasion in the past is referenced right before the book ends.
The guy knows how to string words together, but this isn't really a novel. More a mishmash of different ideas and examples of the author's ability to write
The cover art is somewhat intriguing and goes right along with the title, but I don't understand in the slightest to what the title might be referring. It seems to imply something about the past being lost and indeed I looked for something along those lines as I read. The inside jacket cover says that the book is "nuanced" and I must admit that I don't know if I caught the correct nuances, or if I missed them completely. At this point, I'm kind of assuming the latter.
I am, quite literally, at a loss as to what more I might say about this book. The guy obviously knows how to string words together, but I don't know that I could eek out one iota of the idea that this might be considered by definition a novel. Or even actually Science Fiction for that matter. In such fashion, I would urge you to realize that this may, in fact, not be a novel at all, despite the fact that so many people seem to think it is. Read for yourself, if you must, but heed my warning: you'll be lucky to find such a connection to this grouping of words on pages, and if you do indeed attempt the feat you might just find yourself as ultimately confused as I was. As confused as so many of those surrounding Hans Christian Andersen's Emperor as he strutted down the parkway naked as the day he was born.
A book to leave on the shelf.
Recommended Age:

14+

Language:

Very little, but about PG-13 worthy

Violence:

Not really

Sex:

Some brief teenage homosexuality and references to adult sexuality
Your link:
All Those Vanished Engines

—Amazon