Review: Of Noble Family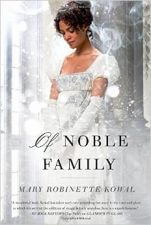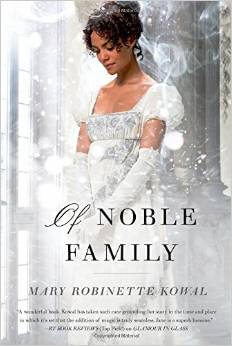 Amazon
Here we are, at the end of our journey in The Glamourist Histories by Mary Robinette Kowal, with book five, OF NOBLE FAMILY (Amazon). Jane has come a long way from SHADES OF MILK AND HONEY (EBR Review). Her and Vincent have been married three years and overcome many trials together, surviving with their relationship intact. But now we discover that Vincent's abusive father is dead, along with the eldest brother, and the inheritance falls to brother number two. Richard is unable to travel to Antigua to put to rights the family property there, and enlists Vincent to take care of loose ends. Jane, of course, insists on traveling with her husband for what promises to be a long round-trip, but a quick last family obligation to fulfill.
Unfortunately nothing goes as planned. What they find when they arrive in Antigua is a mismanaged estate and the children and mistress of Vincent's late father–but that isn't even the biggest shocker of all.

To give away the surprise(s) would ruin the story for you. Needless to say, Vincent struggles with his father's legacy of lies and abuse, and it is Jane who must lead him away from self-doubt and instead through the process of forgiveness.
As mentioned in Dan Wells's review of SHADES (EBR Review), the style, tone, and prose take readers back to the Regency era, where manners and dignity prevail. But Antigua is not England, and Jane must wade through the landmines of race and privilege in a land where slavery and human property are commonplace. She meets Nkiruka, a black woman too old for field work, whose glamour skills surprise Jane. Their friendship starts awkwardly, the role of slave and landowner leaving Nkiruka suspicious of Jane's motives. Mr. Pridmore, the estate manager has mistreated the slaves, which makes them untrusting of anyone connected to the family.
Jane has come a long way from SHADES OF MILK AND HONEY. Are you ready for the ending of this series? Absolutely worth an investment of your time.
But Vincent and Jane are determined to put things right, and those around them begin to understand–slowly–that Vincent is not his father and will do the honorable thing. While the story does contain some action, it's the human maneuvering that's center stage here. Vincent's problems with his family. Jane's relationships with the slaves and the landowners' wives. It's that movement of people, their behavior, and reactions that drive the story and Kowal does it with grace and interest.
Easily my favorite part of the book is Jane and Vincent's relationship. It tends toward the mushy at times (to me anyway), but I love the dynamics of their relationship. They are a team. The strengths of each is different and they admire each other for these differences–it's easy to see why they love each other. This is how a love story should be told, even if they've been married three years!
Then there's the magic. Glamour is used in different ways in Antigua compared to what Jane knows in Europe, which only enlarges our understanding from previous books. Add to that the flavor of the locale, which is presented in just enough detail to not be overwhelming, yet insightful. In the back of the book, Kowal notes her decision to write about Antigua with honesty–it's interesting to understand an author's writing process and how plans change. She wanted to be faithful to the speaking style of the natives, and explains why. Being a native Southerner, and experiencing the difference in regional accents within the South itself, she didn't want to fake an Antigua dialect, so found help in order to be true to the culture.
It is dedication to the craft like that which makes Kowal admirable, and you can see it in every page. This series is worth the time.
Recommended Age:

14+

Language:

None

Violence:

Fisticuffs, references to floggings, and medical blood

Sex:

Referenced and a vague scene