Review: Woven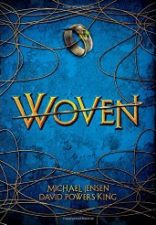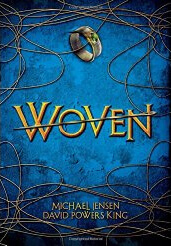 Amazon
Nels can't remember a time when he didn't want to be a knight. Unfortunately, despite his aptitude for combat and a desire to help others, Nels' mother won't let him apply to become a squire. So far he's listened to his mother. But this year she'll be gone during the festival and decides to sneak out of the house while she's gone.
By the end of the night he wishes he'd listened to his mother. Everything goes wrong. He gets in a fight with a real knight. Offends the princess. And is found by the very man who wants to see him dead.
Princess Tyra is in love with Knight Arek. Sure he's a little pompous, but the idea of governing the kingdom scares her, and she'd rather hand it over to a capable husband. She just needs to convince her father that Arek is the best choice. Things were going well until Arek gets in a fight with peasant boy at the festival. When the boy wins he demands his prize–a kiss from the princess–and she refuses, she'd been expecting to kiss Arek as the winner. But later that same boy comes to haunt her–as a ghost.

Now the only way Nels can be returned to his body is for Tyra to help the mage Bosch to find the magic needle that will sew his mend his spirit to his body. Tyra is not convinced she wants to help. Nels isn't sure he wants her help. But he's desperate to live and she's desperate to not be haunted by some peasant boy.
WOVEN (Amazon) is cute. It's safe for tween girls, who are the audience for this sweet love story. Tyra is stubborn yet good. Nels is annoying yet kind. A YA audience will easily like these characters and their unusual predicament. They may also not be as discriminating as adult readers, because the novel as plenty of problems, despite its interesting magic system.
In WOVEN, Nels can't remember a time when he didn't want to be a knight. Too bad his mother is so against the idea. Decent story, but nothing amazing.
Told from alternating viewpoints between Nels and Tyra, we quickly learn about the medieval-style setting with knights, princesses, curses, magic, and kings. It's pretty standard fare. The best part of it is the magic. Magicians are called Fabricators, who weave the magic of connections between people and things. They use items like needles, thimbles, and thread to craft their magic. Fun details are added throughout the novel as we discover how the magic in this world works because Nels and Tyra must understand magic in order to be successful in their quest.
We discover that due to Nels' true past, he's woven to Tyra, and that's why his spirit hasn't passed on. People keep secrets from each other in this book–sometimes it makes sense, other times it feels contrived. I don't always understand why the main characters behave the way they do. Tyra in particular frustrated me because her motivations didn't become clear until close to the end when she finally became more self-aware of her own failings.
Nels and Tyra carry the story, otherwise the standard quest plotline would have been too cliché to keep me interested. They meet. Sparks fly. Sure there's the twist where Nels dies, but ultimately they go on a quest, meet difficulties along the way, and find the item at the end. This typical storyline won't bother the audience, however, who may more likely be interested in the romance aspect between the main characters.
Sure it's a fun story with decent forward movement and evolving characters, but it's the prose that caused me to stumble. They tried to write it in a formal style that new writers seem to think is necessary for fantasy novels, but only ends up feeling unnatural (few do it as well as, say, the unmatched Carol Berg). There were other prose problems–like the campy dialogue–that made the flow not as fluid as it could have been. Hopefully the authors will improve as they go because WOVEN promises to be the first book in a series.
Recommended Age:

12+

Language:

None

Violence:

Some, but not gory

Sex:

Teenage hormones