Review: To Dance With the Devil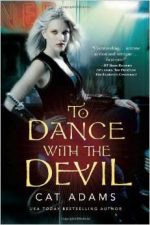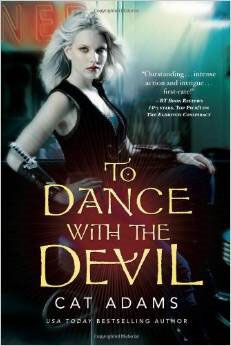 Amazon
In this latest installment of Cat Adams' The Blood Singer series, we begin TO DANCE WITH THE DEVIL (Amazon) with Celia in therapy. Her mother hates her, Celia's grandmother doesn't understand their animosity, all the while dealing with her own problem of being part-vampire and hunted by demons. But it's not the therapy that lands her in the hospital. No, it's the guys in suits who run her off the road, trash her car, and leave her on a sun-soaked beach to burn alive.
Not really the relaxing weekend she was hoping for.

The attack turns out to be a warning, if a rather brutal one. A recent meeting with a potential client went south when the client refused to disclose important information to Celia about the woman she was supposed to protect. As a result the client left the meeting without hiring Celia. Now Celia begins to suspect that both events are related. It turns out that her instincts are right, and as Celia unravels the who, what, when and why, she risks not only her own life, but the lives of those close to her because her new enemy is not only powerful, but is dangerously ambitious.
This series finally hit its stride with the last installment, THE ELDRITCH CONSPIRACY (EBR Review); the first few books in the series were so-so, but I'm glad I stuck with it because Adams has really built a solid footing, and the recent books are the result. Celia's progression across the series is realistic and enjoyable (even if she regresses in this book and has new struggles with her inner bat as a result of the attack), as well as the flow and ebb of relationships with friends, family, and co-workers. There are a lot of people from past books showing up here, and if you haven't read the series thus far you will probably get mixed up with them, despite Adams' explanatory cues. It's fun to see old friends stand up for Celia because she's always been a friend when they needed her.
TO DANCE WITH THE DEVIL is the best in the Blood Singer series so far. Better writing, better storytelling, and really a lot of fun.
Adams' writing is easy to read, if somewhat cliché in spots; there were a few places where flow was an issue, and I blame an editor for missing those (also: do we really need to know everything she eats?). I do enjoy Celia's dry sense of humor, and how Adams isn't afraid of poking a little fun at the occasionally theatrical behavior of our heroine. This time around we get to learn more about mages and not just what they can do, but also the politics and culture surrounding them. However, I still wish there were more magic and setting details, but they got swallowed up in the fast-paced action.
I found the plot made a lot more sense to me than previous installments–in fact, this is the best book of the series so far. So much more comes together as a result of what we know about Celia and her relationship with her friends and co-workers. The story moves quickly, revelations are brought to our attention in a steady stream, and by the exciting end we are invested in the potentially disastrous result. It's turning into a really fun series.
Recommended Age:

15+

Language:

A handful of the stronger stuff

Violence:

Plenty of blood and mayhem

Sex:

Referenced