Review: The Isis Collar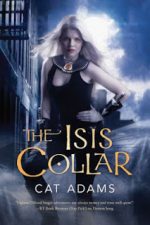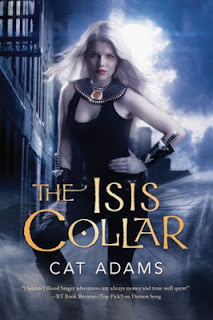 Amazon
Celia's life hasn't been easy since she was turned into an abomination in BLOOD SONG (EBR Review) — not quite human, but not quite vampire, either. At the same time her siren abilities manifested, giving her supernatural skills she only wished she had in a profession (bodyguard) that needs all the advantages she can get.
Be careful what you wish for.

THE ISIS COLLAR (Amazon) starts out with a bomb at an elementary school. Someone really despicable wants to cause a pandemic with a magical necrosis that essentially turns people into zombies. Despite a tip-off, Celia couldn't stop the bomb and is infected, but her vampire side is having trouble beating the infection. It becomes a race against time to find the source of the bomb and an antidote–for herself and for those even less resistant to the disease.
Like before, Celia is a great protagonist with the right amount of attitude and kick-butt skills, who's still a girlie at heart. I enjoyed Celia's romantic entanglements that she can't seem to resolve through no fault of her own. She attracts these men not because she's a fair maid in danger, but because she's a good person trying to do the right thing, who takes her friendships seriously, and is the kind of woman you want fighting in your corner. However, by this point in the series the cast is a little unwieldy. There are new characters with ties to people Celia knows, there are several people from previous books, and even more with back story–all of this would make new readers feel lost.
For some reason Tor never sent DEMON SONG (Amazon) (boo! And I wanted to read it!), although they sent the first two in the series, BLOOD SONG (EBR Review) and SIREN SONG (Amazon) . Either way THE ISIS COLLAR is a bit of a letdown after the clean writing of books 1 and 2. We're caught in subplots carried over from previous books that interfere with the pacing. There are also some seemingly random events that matter later in the story, but aren't explainable and still feel random. Heck, we don't even know what the Isis Collar is until the last quarter of the book and it's the title! Adams tries to tie everything together, but the novel still felt like a random sequence of events, making the pacing a little off, even if there was consistent forward movement.
If you liked the previous books, THE ISIS COLLAR is more of the same: same Celia and friends, same pacing and exciting storyline.
It's less the plot than it's the characters and the setting that will keep readers hooked. It's a world of vampires, sirens, mages, witches, demons, and everything in between. It's a world that's familiar to us and yet very, very different. Adams adds fun details to this world, such as the Isaac's store, where Celia gets her gear altered to hide her guns, but to also purchase magic charms, a special brand of spray holy water, and anything else a girl would need to defend herself from the supernatural.
If you liked the previous books, ISIS is more of the same: same Celia and friends, same pacing and exciting storyline. If you haven't read any, start with BLOOD SONG. As for the series, despite its flaws, its interesting characters and engaging setting is what will keep me reading in the future.
Recommended Age:

16+

Language:

A handful of harsher language, but still average for Urban Fantasy

Violence:

Plenty of danger from bombs, demons, witches--with the zombie descriptions being the grossest part of the book

Sex:

Innuendo and references without detail