Review: Emperor of Thorns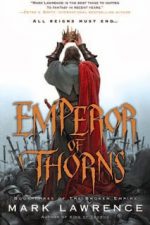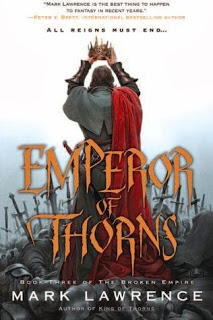 Amazon
I think it's pretty rare for an author to end a series in a strong and convincing manner. Be it ten novels or two, it just seems like I'm nearly always let down once I get to the end. When I first read Mark Lawrence's PRINCE OF THORNS (EBR Review), you'll remember that I was completely blown away. In terms of dark and gritty fantasy, it was pretty close to the top of the list. I was worried when KING OF THORNS (EBR Review) arrived in my mailbox. It couldn't possibly live up to the first book. Except it did. Then I received the final book in the series, EMPEROR OF THORNS. I didn't even start reading it right away (hence the delay in this review), because, stupidly, I didn't want to be let down. Again, how often does an author blow it? Pretty frequently.

But not this time.
EMPEROR OF THORNS (Amazon) was such a satisfying read. This was the culmination of all the plot threads from the two prior novels, and somehow Lawrence was able to pull them all together. This book isn't simply about Jorg trying to become the Emperor. Well, in a way it is, but its actually about the characters, and who they really are, and then how those personalities influence the future of this realm.
Jorg isn't a hero. I wouldn't even say he's an anti-hero. He's actually pretty much a jerk-face. But I can still root for him because of the way Lawrence shows us the character. If there is one person he is honest towards (more or less), I think it's the reader. He has his good moments (rarely), and then his moments where we see his naked and raw ambition and ruthlessness. But more importantly we see his growth. This is not the same Jorg from book 1. Not even remotely. I think this quote sums it up pretty well how much he has changed, while still remaining true to his origins:
"You should know that he is not a good man, but neither is he a man that can be turned, and should all hell wash against these walls, as I believe it might very well do… King Jorg will stand against that tide."
So we get two different PoVs from Jorg, just like in the prior novel. I won't spoil what they are about, because his journey is really a huge part of the enjoyment. I will say that Lawrence uses the two distinct PoVs like they are two different characters, which the kind of are. As a counterpoint to the two Jorg PoVs, we also get to see things from Chella's PoV. For me, this was huge. Seeing another person's detailed PoV on Jorg really seemed to complete the puzzle for me.
Again, who are these characters? How far are they willing to go to achieve their individual goals? Seeing how everything comes together in a massive convergence (to use a Steve Erikson term) was the reward and payoff I'd been hoping for since first novel.
So what else should you expect in this novel? Violence? Selfishness? Brief glimmers of heroism? Oh yeah. it's all here. What Lawrence does extremely well is throw in those glimmers of light that contrast so starkly against the darkness of the novel. Another highlight for me was seeing more locations in this post-apocalyptic world. It's a world that has just enough familiarity to really make those new moments so interesting. And the ending? Stunning and focused on character, just like it should be
Mark Lawrence's The Broken Empire trilogy, now completed, is a stunning work of dark fantasy, and EMPEROR OF THORNS is the perfect capstone to the series.
I am completely satisfied. Mark Lawrence's The Broken Empire trilogy, now completed, is a stunning work of dark fantasy, and EMPEROR OF THORNS is the perfect capstone to the series. This is now one of my favorite series ever. Having seen Lawrence's work progress from Book 1 to Book 3 has left me eagerly anticipating PRINCE OF FOOLS (Amazon) this June.
You should read this series. Enough said.
Recommended Age:

17+

Language:

Oh yeah

Violence:

Very much so

Sex:

Yup. A couple scenes and bunches of references.