Review: V Wars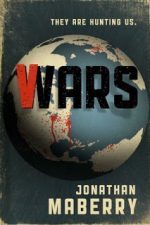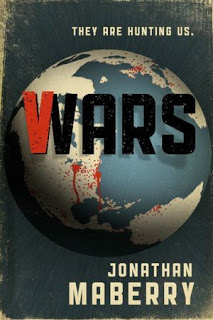 Amazon
Most anthologies contain a collection of unrelated stories from various authors. That's just the way it goes. Unless the anthology is done by Baen Books and is set in one of their authors' worlds, the stories are rarely even set in the same universe. Heck, even the anthologies I've written for (THE CRIMSON PACT: Vol 2, 3 & 4) have had very few links to connect anyone's work.
And then I read V WARS. V WARS (Amazon) is a vampire (mostly) anthology edited by Jonathan Maberry. That name alone should be enough to grab your interest. Maberry puts out quality work 1000% of the time. This anthology is about a global outbreak of a virus that converts the "junk DNA" in some people. Depending on their heritage, those affected by the virus turn into vampires and werewolves (which in folklore are traditionally related).
And the best part is every story is set in the same world under the same calamity.

You have no idea how refreshing this was to me. Maberry tells a series of short tales following the so-called "patient zero" and his transformation. Maberry's stories serve as a continual frame and big-picture narrative to the entire anthology. The execution across the board is fantastic, and the story feels equally cohesive from the shared story element, to fittingly diverse since it is written by a variety of authors. Obviously, Maberry's portions were stellar, but in many cases they were just vignettes to move the overall narrative forward.
I had some personal favorites in this collection, but I feel a bit crappy about pointing out specific stories. Due to the nature of this anthology, and the connected nature of every story, it would almost be as if I were picking certain chapters in a novel that I didn't like. So instead–and thus avoiding a ton of spoilers–I'm just going to talk about some of the ideas here and what made the entire collection strong.
The ideas in this anthology are what carry it. We get a werewolf themed political thriller, a vampire pyramid scheme, biker gangs, tales from the Mexican-US border, and even a tale from the Antarctic. Even the variety in vampires is pure awesome. How many anthologies play it safe these days? V WARS takes a risk here by having such a crazy variety of stories. I don't know whether or not Maberry planned this whole thing out, or if he just edited it all together, but it all flows so well considering the multitude of authors involved in this project.
I do have a few issues. Firstly, the title of the collection is V WARS… and yet this anthology is really about the spread of the virus and how the world reacts to it. The anthology ends right when we are about to get into some actual wars. So this begs the question: is there going to be a follow-up anthology? If so, great! If not, the title of this collection makes promises it can't (and doesn't) keep. There were a few cases where the segments just didn't work, and were inconsistent with the overall narrative. Also, one story delves into the cliche on a bad level.
V WARS isn't perfect, but it's so good. You should read it. And so should your friends. We love the idea behind it and want to see more.
Here is what I hope: that this becomes a trend. I want more projects like V WARS. Lots more. A bajillion more. Why? Because readers get to have some great short-fiction while at the same time experiencing a big narrative. This seems like such a win-win for authors and readers alike.
V WARS isn't perfect, but it is dang good. I've been begging Maberry through email to do a sequel anthology, and I'm just praying he gets his group together and does it. You should read V WARS, and so should your friends.
Recommended Age:

18+

Language:

All sorts

Violence:

Holy crap, yes!

Sex:

Actually, there is a really explicit scene in one of the stories. To me, it wasn't needed.