Interview with Kristine Kathryn Rusch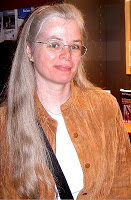 First off, Kris, we want to thank you for taking the time to chat with us a bit. As per tradition here at Elitist Book Reviews, we want to give you a chance to brag a bit. Tell us (and our readers, of course) what makes you an awesome author. Don't hold back, modesty isn't allowed.
Wow. This isn't in my nature. Tried answering this question twice and found that my Midwestern upbringing and my natural reticence make it impossible to do. So gee, I guess, um…all I can say is read my stuff and find out.

Why don't you give our readers a bit of your writing history.
I started writing really young (my first story finished at age 7). When I was 12, my brother gave me a subscription to Writer's Digest, and that set me on the road to professional writing. I started writing nonfiction professionally at 16 when I did the high school column for the local paper (and got paid for it!), and sold my first small press short story at 22. Sold my first professional short story at 25 and my first novel, The White Mists of Power, at 29. I haven't looked back since.
How about we chat a bit about your novel, DIVING INTO THE WRECK. Frankly, we loved it, and we don't like very much SF. Where did the ideas for this novel come from, and how did you manage to make them so distinct?
I love old-time sf—the rockets and rayguns stuff that the print version of sf hasn't seen for years. Adventure fiction for lack of a better term. I read an article about diving old ships in the ocean, and realized that some day someone would dive old spaceships (I hope!), and that got me the first section. That—and stories my husband Dean Wesley Smith has told about diving for bodies with search-and-rescue in Idaho. (He's done almost everything, that man.) Then I saw an article about cremated ashes left in the basement of the Oregon Mental Hospital (the same one Ken Kesey wrote about in One Flew Over the Cuckoo's Nest). The ashes had no names, only numbers, and the key was lost. The paper was calling it a room of lost names. I got lost souls from that, dunno how, and that became the novella, "The Room of Lost Souls." Halfway through writing it, I realized that this was part of the same story as "Diving." And then I had to finish it all. There's more, you know. Just sold Asimov's another novella in Boss's world. And in 2009, published another in Asimov's called "The Spires of Denon," which is set in the Diving world, but doesn't involve Boss.
We mentioned in our review of DIVING (EBR Review) that we were impressed with how accessible the novel was. Was this a goal of yours when you began writing this novel? If so, why was it important for you?
I want people to read science fiction. I'm a former science fiction editor and I can't read half the novels published out there. That's just wrong. SF was one of my biggest escapes as a kid. I still love the TV shows (Stargate: Universe, anyone?) and the movies, but the many of the sf print people put that down as "unoriginal" or "has been done before." (Just this month got a professional reviewer comment on one of my short stories that it was a great story, but not worth calling a good sf story because it didn't do anything new.)
Here's the crazy thing: if you made that the criteria for any other genre, the genre wouldn't exist. Murder? It's been done before. Romance? You had that in your last book. As my college creative writing professor said on day one of class: There are seven plots. Shakespeare did them better than anyone. If that scares you, leave now.
Any plans for future stories set in the DIVING universe with Boss as a PoV?
Oh, yes.
What do you consider the best book you've written so far?
The one I just mailed off. It's always that way. And it'll always be a different book that no one has seen—except Dean, who is my first reader.
You've been writing SF for quite a while now. What are some of the recent trends that you like and dislike about SF?
I love the kick-butt heroines that are taking over the field. Just love .'em. And I'm happy that so many editors, especially in books, are going back to the adventure side of the field, no longer caring about that "this has to be new" thing. I love the way that YA has taken over sf. You want good sf? Go to the YA section of the bookstore. As for the stuff I don't like, see my other answer, above.
We are going to put you on the spot a little here, so don't kill us. A few years ago at WorldCon in Los Angeles, you mentioned something on panel that stuck with us. When discussing the blending of genres, you mentioned that you felt Mystery was a style, not a genre. Do you still feel this is true? Why is mystery such a large part of the novels you write?
I did? Jeez I sound so smart on panels, and I'm really just spitballing. I may have meant that noir is a style—Chandler is all about voice, for example. In fact, a lot of mystery is all about voice because—you know—murder and crime has been done before.
I think mystery is my most natural genre. I see the dark side of everything—criminals lurking in every corner. Plus I naturally think about how to break the rules. So I write stories where criminals (usually) get their comeuppance, but the fun for me is figuring out how they would break the rules—and how someone would stop them.
If you could recommend good, accessible SF to hesitant readers, what novels would you recommend, and why?
I used to say read the best of the year volumes, but there are too many and one has become dang near unreadable lately. I will say pick up Asimov's. Right now, Sheila Williams is publishing some of the best sf in the field. And read more than one issue. She publishes everything from the hard-to-understand slipstream stuff for the old timers, to action/adventure for folks like me. And then there's Connie Willis: To Say Nothing of the Dog, for example, for good time travel. Scott Westerfeld The Uglies (This is YA). Jack McDevitt's novels. Mostly, though, I'd suggest picking up an SF book, and reading the opening two or three pages. If you get lost, put it down. That author's not for you. (My rule is that if they have more than 3 made-up unrecognizable words in the first 3 pages, then I won't read the rest of the book. It starts hard and gets harder.) If they hook you, buy it. And step outside the genre section. YA and romance have some good sf (check out Linnea Sinclair in romance). You just have to find it.
As busy as you are, do you get a chance to read much? What authors get you excited?
I read every day. And authors new to me get me really excited. So do good books. Every month I do a recommended reading list on my blog. I make a point of citing all the stuff I think is good there. http://kriswrites.com/category/reading/
How do you go about the writing process, and for you, what is the most enjoyable aspect of it all?
I love to write new stuff. I hate writing the end. I used to skip right over that part. (I'm better now). My stories often arrive out of order, and that can be irritating, but fun as well. I never know what'll happen next—not even in my own brain.
What's next for Kristine Kathyrn Rusch, or your other pseudonyms for that matter?
A short story collection will come out in the spring called Recovering Apollo 8 and Other Stories. I have a lot of short fiction appearing this year. Then early next year, Kristine Grayson—my goofy funny romance pen name (once heralded as the Queen of Paranormal Romance)—will make a return appearance with a novel called The Charming Way. And there's more in negotiation and under discussion. I just can't confirm any of it yet.
Ready for a tough question, Kris? Who do we have to bribe…err, talk with to get cameos in your next novel? We make really good cookies.
Cookies—months of cookies—would do it.
Kris, it's been a pleasure talking with you. We'll have you on our Hugo ballots. Any last words for the readers?
Thank you for the request (and the Hugo rec!) For the readers, lemme say this: I can't do it without you. You're the best. Thanks for buying and enjoying my work.