Posts that have been tagged with: "
Keith Donohue

"
Giveaway: The Motion of Puppets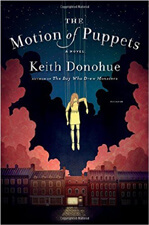 Updated: THIS GIVEAWAY IS CLOSED. Congrats to our winners, Rod from Omaha, Ray from Vancouver, and Jennifer from Dalton. Your books will be on the way soon!
The publisher is offering three THE MOTION OF PUPPETS hardcovers to our awesome readers to give away! This means multiple winners, people! How can you lose? To enter this giveaway:
1. Email us at elitistbookreviews@gmail.com
2. Include the following on the subject line: PUPPETS GIVEAWAY
3. In the body of the email include your name and mailing address. This giveaway is only available to U.S. addresses.
Giveaway rules can be found here. Entries will be accepted until midnight of October 27th and the winners will be posted on the 28th. Good luck!
And don't forget to check out Vanessa's review for THE MOTION OF PUPPETS .
Review
The Motion of Puppets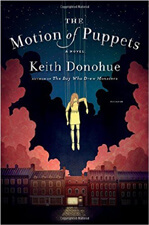 Theo and Kay are newlyweds livings in Quebec while she spends the summer working as a performer at the cirque and he's on sabbatical to finish a translation for a book. They're a sweet couple, each with their own pursuits and personalities, but their relationship works.
And by the end of chapter 2 Kay has been turned into a puppet.
Read the rest of this review »
Review
The Stolen Child
When Henry Day was seven years old he was stolen by hobgoblins, one of their own changlings taking his place in the real world, while he joined the band of children living in the forest. They are both interlopers in their respective worlds, the real Henry Day now known as Aniday, and the changling Henry Day being raised by parents not his own, his parents long dead
Changling Henry Day was abducted 100 years previously, and spent the intervening years learning the ways of the hobgoblins, surviving the forest with eleven other children of various ages, waiting his turn until he could take the place of another child and return to the real world. As Henry Day grows up he is constantly reminded of his origins, while everyone around him is oblivious to his inner turmoil, his resentment that the hobgoblins have stolen his past. While another lives the life he should have, Aniday must learn the ways of the forest and how to survive among a band of wild children who are older than they look.
Read the rest of this review »