Fantasy 102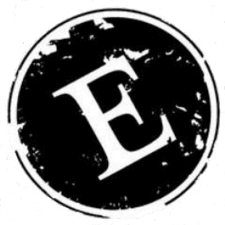 Ready for a little continued education? After making our individual picks for Fantasy 101, we realized there were quite a few novels and sub-genres that we weren't been able to include. Steampunk, Urban Fantasy, YA Fantasy, etc. There are tons of novels that can help ease a person into fantasy without getting so… epic. Here are some quick definition links for you:
So, in an effort to introduce you all to a wider variety of Fantasy, here are six more picks.

Steve's Picks:
The Book of Three: (Middle-Grade/Young Adult)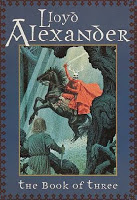 When I was young, in the 2nd Grade, I was hungry for books to read. Looking back, I believe that was when I decided that there was more to life than recess. I looked up at my parents' bookshelves and say a neat row of well-worn books by Lloyd Alexander. My mom handed down the first of them to me–THE BOOK OF THREE–and told me to read them… I expect it was a bit of an experiment to see what I would do. I read the novel, and the ones that followed, and thus began my love of the fantasy genre. It is only now that I realize what made Alexander's novels so entertaining. The hero's tale mixed with the coming-of-age story made my childhood imagination wander. Now I look back at the not-so-subtle way Alexander poked fun at his own characters, and their own dilemmas. Any age of person can pick these novels up and get a taste of Fantasy, yet they are shelved in the Children's Section of your local bookstore. Pick them up for yourselves, and for your children. Who knows, maybe one day your 2nd Grader will point up to them and ask you if they can read them.
Mortal Engines: (Steampunk)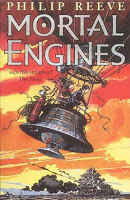 Philip Reeve's novel, MORTAL ENGINES, is the most basic Steampunk novel I know of. Cities, in this alternate version of our own world, are all mobile. They act as predators, with larger cities being driven (literally) by the populace to chase down and consume other, smaller cities. The recommended age for these novels is grade 7 to 10, but I think they serve as a fantastic introduction into the sub-genre for any age. Part of what makes this novel (and its sequels) so entertaining, is that for a YA novel it isn't afraid to be darker in tone. There are themes of tragedy, betrayal, and revenge, all the while mixing in a little romance into a unique and enjoyable setting. Do yourself a favor and pick up a copy of MORTAL ENGINES.
Something From the Nightside: (Urban Fantasy)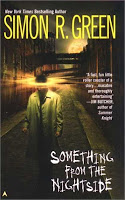 This Urban Fantasy novel by Simon R. Green is really on the line of Fantasy 102 and Fantasy 202. SOMETHING FROM THE NIGHTSIDE is about a private detective named John Taylor who uses his unique… gift… to find things in the Nightside. The Nightside is a sick magical city hidden within the city of London. There it is always 3:00am–the part of the night where it's always darkest before the dawn, and the dawn never comes. The novels in this series are all short, but the imaginative world created inside those pages is incredible, and enjoyable. This book has some language, violence, and some blatant innuendo. It's the most mature of any of the 100-series books I am recommending (hence why I almost put it in 202). However, I think Green's Nightside Series is a great place to get your feet wet in the Urban Fantasy sub-genre. Enjoy it!
Nick's Picks:
Storm Front: (Urban Fantasy)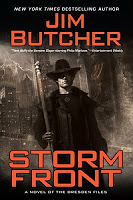 If you read our review of Butcher's latest (and if you haven't you have some explaining to do) then you know I have become somewhat disillusioned with the series. However, that doesn't detract from the quality of his earlier work. Jim Butcher's The Dresden Files is the very pinnacle of Urban Fantasy. I mean there is a wizard battling all manner of supernatural threats in a city setting. Nearly all of the Dresden Files are page turners which, for me, is the number one requisite for a recommendation here, aside from the genre that is. For an introduction to a style of writing or storytelling, the book has to grab your attention and never let go. Jim does that incredibly well. There are a good couple dozen books that I considered adding here, however none of them define this sub-genre quite like Butcher does. Plus, from the launchpad of The Dresden Files there are dozens of roads to be taken to other sub-genres such as the apocalyptic tales like E.E. Knight's Vampire Earth or Faith Hunter's Rogue Mage Novels to Laurell K. Hamilton's Vampire Hunter series.
The Somnambulist: (Victorian)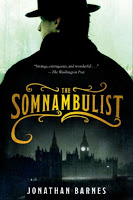 Jonathan Barnes serves up one well-plotted, awesome story here. Like my other selections so far it is the paragon of it's sub-genre, the Victorian thriller-fantasy. It is a bit creepy, a bit comic, a bit exotic, and all excellent. Once again my standards for recommendation in the University of Fantasy require ease of entry and reading. Despite being a harder recommendation on that basis that my previous two, it still meets them and is a great entry point to the more mysterious, fantastic thriller style. This kind of macabre adventure is going to be remembered based on it's first line alone, at least, and it is: "Be warned. This book has no literary merit whatsoever. It is a lurid piece of nonsense, convoluted, implausible, peopled by unconvincing characters, written in drearily pedestrian prose, frequently ridiculous and willfully bizarre. Needless to say, I doubt you'll believe a word of it." If that doesn't make you want to read it, I have no hope for you.
Whitechapel Gods: (Steampunk)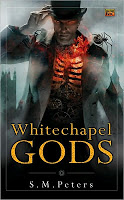 S.M. Peters is an outstanding author, as evidenced by this book. It is a very foreign and very unique take on the steampunk genre. I include it here because it is so bizarre in many ways that it serves as a great example of what is possible in steampunk, while not so esoteric as China Miéville's exotic slipstream. The plotting is very well done and the steam technology presented is extremely interesting, not to mention the machines that aren't powered. All in all, right now, this is one of my favorite steampunk novels as well as the first candidate I considered for this recommendation. New readers to the sub-genre, may not be caught by the steampunk fishhook, but they will at least be impressed with Peter's writing. Read this, and learn what steampunk has to offer you.
Parent page: Elitist University