Book Series ::
The Locked Tomb Trilogy
The Locked Tomb Trilogy — #1
Gideon the Ninth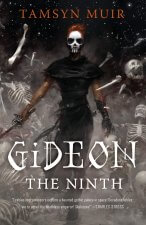 I had to restrain myself from writing this review in all-caps. That's how much I enjoyed Tamsyn Muir's novel, GIDEON THE NINTH (Amazon). It was spiky and weird, with magic that kept surprising me and the kind of characters I love–a little too smart for their own good, sarcastic, and tragic.
Gideon Nav has two goals in life. The first is to escape the smothering, incessant gloom of the Ninth and become a soldier in the Emperor's Cohort. But Gideon is indentured and without the permission of Ninth House, she's stuck. So she spends her days planning (and failing) to escape and training with her sword.
Her only other desire is to do everything in her power to make Harrowhark Nonagesimus, the powerful necromantic heir of the Ninth, absolutely miserable. Harrow has tormented Gideon unceasingly since childhood, and Gideon hates Harrow as much Harrow hates her.
Read the rest of this review »
The Locked Tomb Trilogy — #2
Harrow the Ninth
—Amazon
(Coming June 2020)