Book Series ::
Dead Six
Dead Six — #1
Dead Six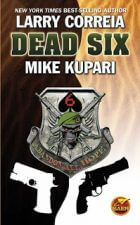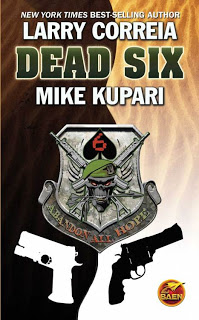 Admit it. Once upon a time you read Tom Clancy too. There's no shame in that admission. Clancy had some awesome stuff…you know, before he just seemed to lose his touch. CLEAR AND PRESENT DANGER. WITHOUT REMORSE. Yeah. Awesome. But here's the thing, there came a point where the story took a back seat to Clancy showing off how much he knew about the technical aspects of everything military related. If you go on for a full chapter talking about how a bullet works, and then don't do anything with that chunk of pages, you're doing it wrong in my opinion. It's about the story. It's about the characters.
Tom Clancy went away well before he wrote TEETH OF THE TIGER (I still shudder), and there wasn't really anyone who captured my imagination the same way.
This is the part where a lesser reviewer would say, "Until now!" I refuse to say that.
Read the rest of this review »
Dead Six — #2
Swords of Exodus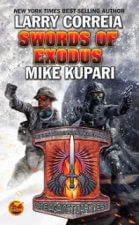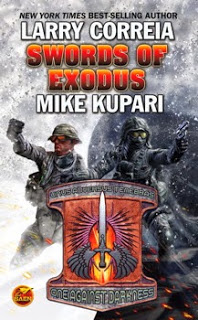 Been a long time! Miss me? Of course you did, what a stupid question. Well a new Larry Correia book is out and you couldn't expect me to pass up an opportunity to read/review it now could you? Another stupid question – I'm Correia's biggest fan. But, of all Larry's books DEAD SIX (EBR Review) has probably been the one I've liked the least. That's not to say that DEAD SIX is a bad book, but I didn't consider it up to Larry's standards. It was fun and action-packed but the writing was a little rough around the edges, the collaboration between Correia and Kupari wasn't seamless, I wasn't sold on the characters, and I couldn't find any merit in either of the romantic relationships. That said, I wasn't discounting the series as the second half of the novel runs a whole lot smoother than the first. I'm quite pleased to say that SWORDS OF EXODUS by Larry Correia and Mike Kupari (Amazon) is infinitely better.
Read the rest of this review »
Dead Six — #3
Alliance of Shadows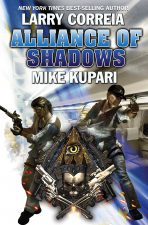 Disclaimer: Anyone familiar with my reviews will likely know that Larry Correia is my favorite author. 
Once or twice a year a new Larry Correia title hits the shelves and for a brief, shimmering moment everything is right in the world. In this case the title is ALLIANCE OF SHADOWS (Amazon), Book 3 in Larry's Dead Six collaboration with Mike Kupari. I wasn't overly fond of DEAD SIX (EBR Review), the first book in the series, but SWORDS OF EXODUS won me over and I've been waiting three excruciating years for the conclusion to the trilogy. In typical Correia fashion ALLIANCE OF SHADOWS does not disappoint.
Read the rest of this review »