Book Series ::
Bannerless Saga
Bannerless Saga — #1
Bannerless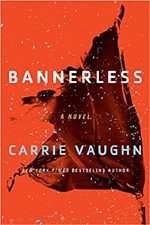 From the cover: "Decades after economic and environmental collapse destroys much of civilization in the United States, the Coast Road region isn't just surviving but thriving by some accounts, building something new on the ruins of what came before. A culture of population control has developed in which people, organized into households, must earn the children they bear by proving they can take care of them, with symbolic banners awarded to demonstrate this privilege. In the meantime, birth control is mandatory."
Our main character, Enid, is from the community called Haven, and works as an investigator–she mediates disputes and investigates offenses against those living along the Coast Road. In her mid-twenties, she's considered young for the job, and her first big case is to investigate the suspicious death of a young man treated as an outcast.
Strangely enough, in the post-apocalypse life murder is rare. Strict controls of being able to prove your worth as a contributing member of the community means people are focused on surviving and earning the right to have offspring. While for the most part this concept works, too many chafe at the restriction, hence the need for investigators.
Read the rest of this review »