Book Author ::
Robyn Bennis
Review
By Fire Above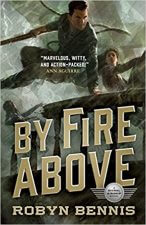 Josette is the captain of the airship Mistral, and after the events of THE GUNS ABOVE (EBR review), she's made enough of a name for herself that she doesn't have to worry about the powers-that-be of taking her ship away from her. But the war with the Vins continues to rage, and making a name for oneself means that her and her crew are thrown once again into the fray to fight for Garnia.
But the scariest thing Josette will do is navigate the Garnian royal court.
Read the rest of this review »
Review
The Guns Above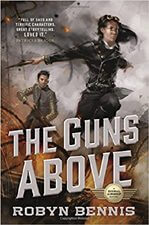 If you were disappointed in my mediocre rating for ARABELLA OF MARS (EBR review), then here is the book that will fulfill your military-steampunk airship cravings and to spare. THE GUNS ABOVE is everything ARABELLA isn't: engaging characters, easy to read prose, exciting plot, hilarious dialogue, and a lead female character with brains.
Hallelujah.
Read the rest of this review »